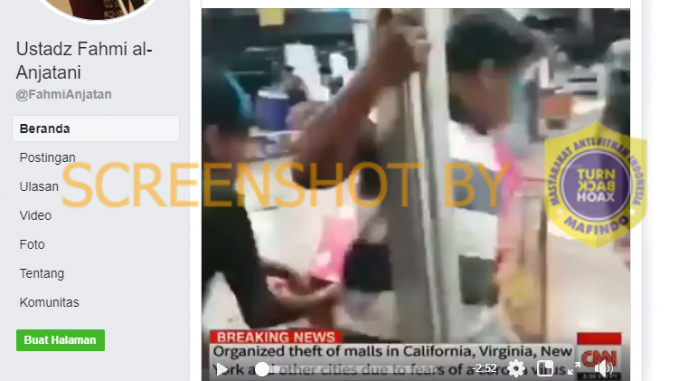 There is NO connection with the Corona Virus COVID-19 epidemic. The video is part of riots and looting in the state of Veracruz, Mexico in January 2017.
Based on search results, the claim that the video was a looting video in America due to fears of the Corona COVID-19 virus is a false claim.
The video incident was part of riots and looting in the state of Veracruz, Mexico in January 2017. One of the videos with clearer quality was uploaded on Fernando MJ's Youtube channel with the title "Saqueo a Chedraui Ponti en Veracruz, Ver. – Mexico ORIGINAL VIDEO "on January 5, 2017.
The increase in fuel prices by 20.1 percent starting January 1, 2017 made some Mexicans relentlessly take to the streets. Protests took place in 28 of 32 states. The mass action was colored by riots and looting. Until yesterday (1/6/2017) the police had not been able to secure the situation.
Initially, the action took place peacefully. However, over time the mass began to be out of control. Various road points were blocked. They also looted shops and gas stations. Thursday local time (5/1/2017), the National Association of Self-Service and Department Stores (ANTAD) revealed that there were 250 shops looted by the masses. What was revealed was that only shops and department stores were included in the ANTAD membership list. In total, there may be a thousand shops that have been damaged and looted by the masses in various cities.
"This is getting out of hand," ANTAD Executive Director Manuel Cardona said during an interview with Radio Formula. He called on federal forces to intervene so that chaos would not continue to grow. With a 20.1 percent increase, the price of gasoline in Mexico at that time was around Rp 11,970 per liter.
Uncontrolled conditions did not make Mexican President Enrique Pena Nieto revoke the fuel increase policy. "This is a difficult change. But, as president, it is my responsibility to make difficult decisions now to avoid major problems in the future, "Pena Nieto said.
The 57th President of Mexico revealed that last year's world oil prices had gone up. If the government does not increase the price, the government must subsidize USD 9.3 billion (Rp 124.026 trillion). If that happens, other programs such as health care and community welfare will be stopped because there is no budget. "I ask you, if that happens, what will you do?" he asked.
The increase that is currently set is only as preparation. Therefore, the government is prepared to stop all fuel subsidies and let prices follow market prices. The policy will begin in March.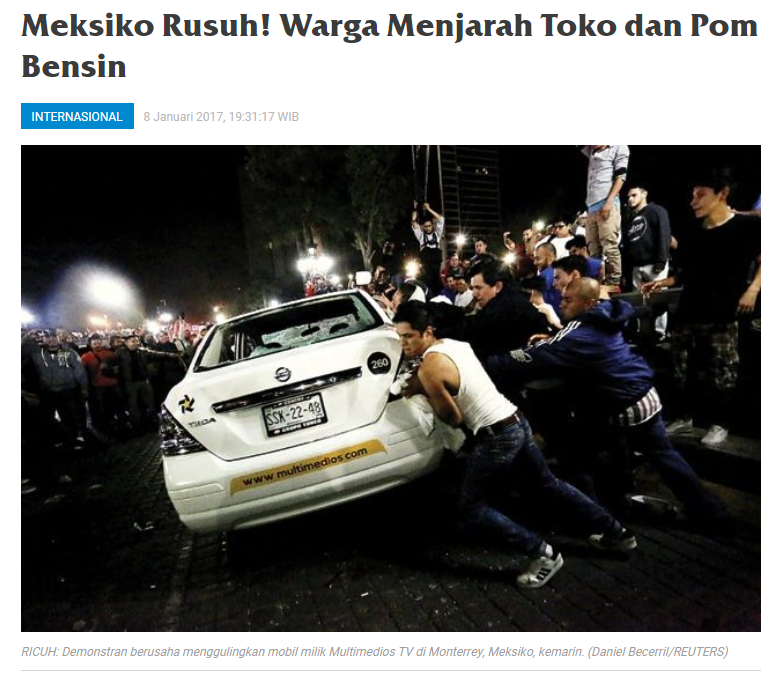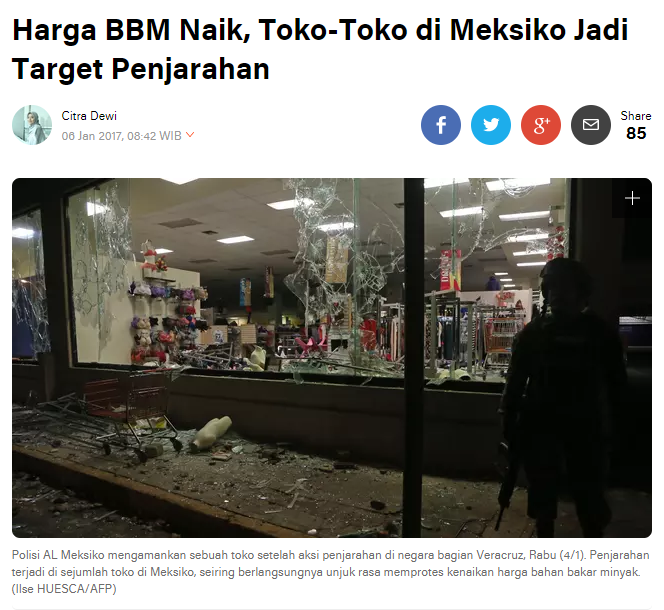 Read more in https://bit.ly/3dFeVe3 ( Google Translate )