Tom immediately told him that he was a victim of hoaxes. Currently the film star 'Cast Away' is still in good health. The-daily-star [dot] com site itself is a site that contains satire content.
Read more in the DESCRIPTION and REFERENCES section
=============================================
Category: Fake Content
=============================================
An article titled "BREAKING: CORONAVIRUS CLAIMS LIFE OF TOM HANKS – Queensland, Australia: Actor Tom Hanks has passed away age 63."
This article posted on the-daily-star [dot] com site claims that Hollywood actor Tom Hanks has died. Written, Tom died at the age of 63 years.
Full narration at https://perma.cc/5SM2-SWAY (Archive)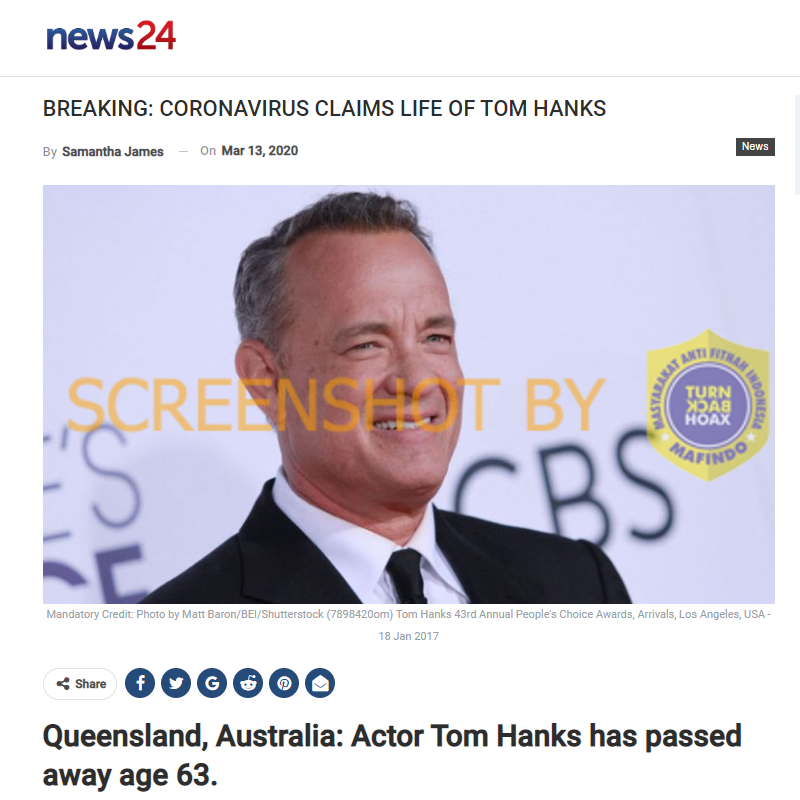 =============================================
EXPLANATION
Dismissed the news, Tom immediately told that he was a victim of hoaxes. Currently the film star 'Cast Away' is still in good health.
"He joined the long list of celebrities who have fallen victim to this scam. He is still alive and well, stop believing in what you see on the internet, "said Tom.
The Medcom.id Fact Check Team also checks instawory ritawlison, Tom Hanks' wife. Most recently, he uploaded the story on Saturday March 14, 2020. While an article from the site was found, uploading the narration of the death of Tom Hanks, published on Friday, March 13, 2020. If further observed this site shows indications of unreliable pages.
Among them in terms of name, similar to the main portal www.dailystar.co.uk. Then they did not include the composition of the editor and office address on the site.

Besides that, on the-daily-star site they claim to produce satire content. This can be seen at the bottom of the site, there is a statement that reads "Disclaimer: This is Satire."

Then, in the Privacy & Terms column there is an odd sentence. For example, the privacy provisions say "Last update: January 3 1975". In fact, after being traced by utilizing Whois Lookup & IP, the site domain was only created on January 29, 2019. This means that it contrasts with privacy requirements.
That it was true that Tom Hanks and his wife, Rita Wilson, were positive for the corona virus (covid-19). Tom announced the news himself via upload on Tomhanks Instagram account on Thursday March 12, 2020.

Tom said he and his wife caught a fever while in Australia. At that time he was preparing a new film about the life of Elvis Presley.

"To play properly, as needed in the world today, we were tested for the corona virus, and it turned out positive," as reported by Medcom.id .
On Friday, March 13, 2020, Tom uploaded the latest photos on his Instagram and Twitter account, Tomhanks. He seemed to embrace his wife and smiled at the camera lens.

"Hello friends. Ritawilson and I would like to thank everyone here, Down Under, who took care of us so well. We have Covid-19 and are in isolation so we don't pass it on to others. There are people who can cause very serious illness. We take it one day at a time. There are things we can all do to get through this by following the experts' advice and taking care of ourselves and each other, right? Remember, despite all the current events, no one cries in baseball. Hanx, "said Tom.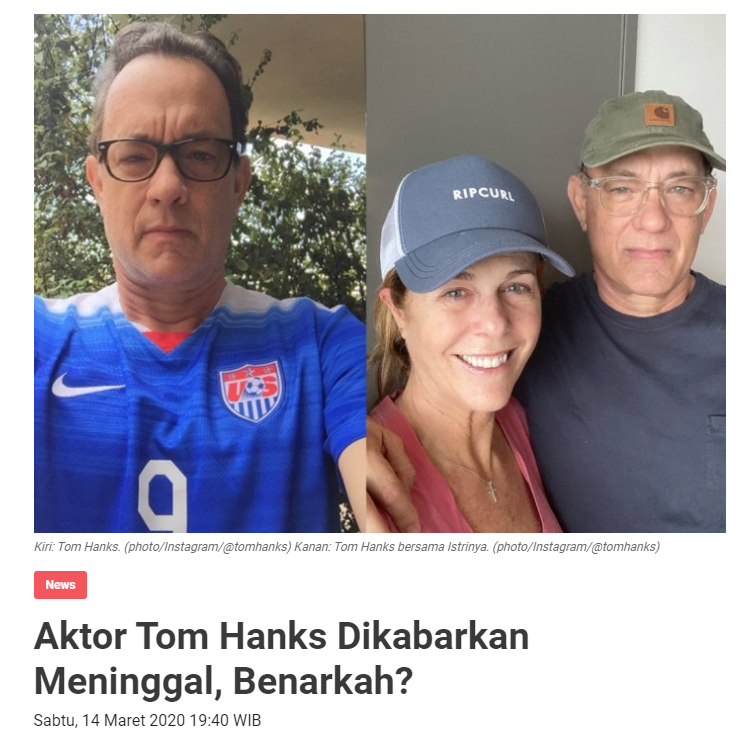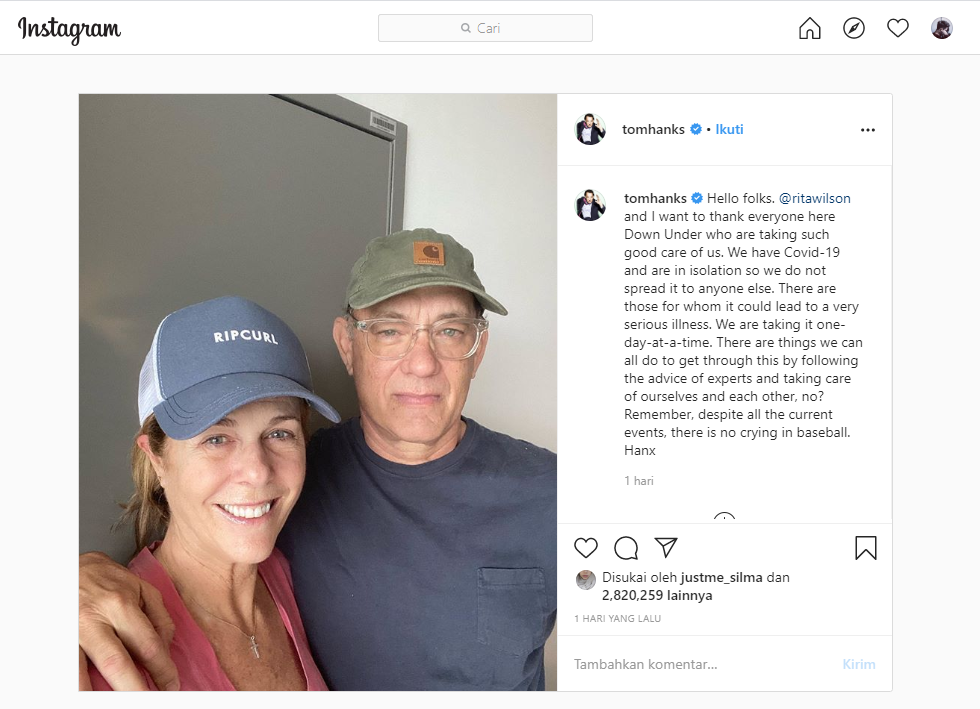 http://bit.ly/2INxezy ( Google Translate Chrome extension )