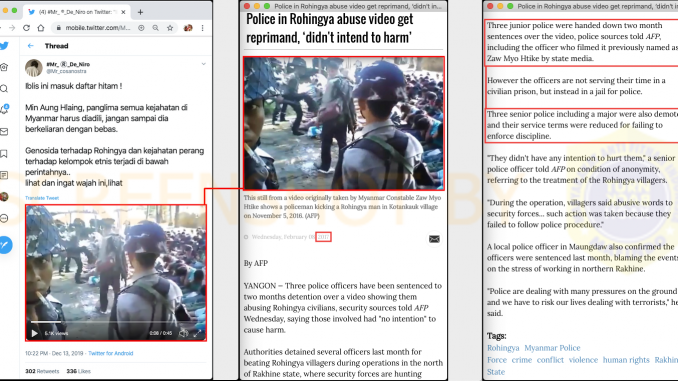 Incident in 2017. Already processed by related authority, senior and junior officers considered as involved has been punished.
More @ EXPLANATION and REFERENCE section.
======
CATEGORY
Clarification.
======
SOURCE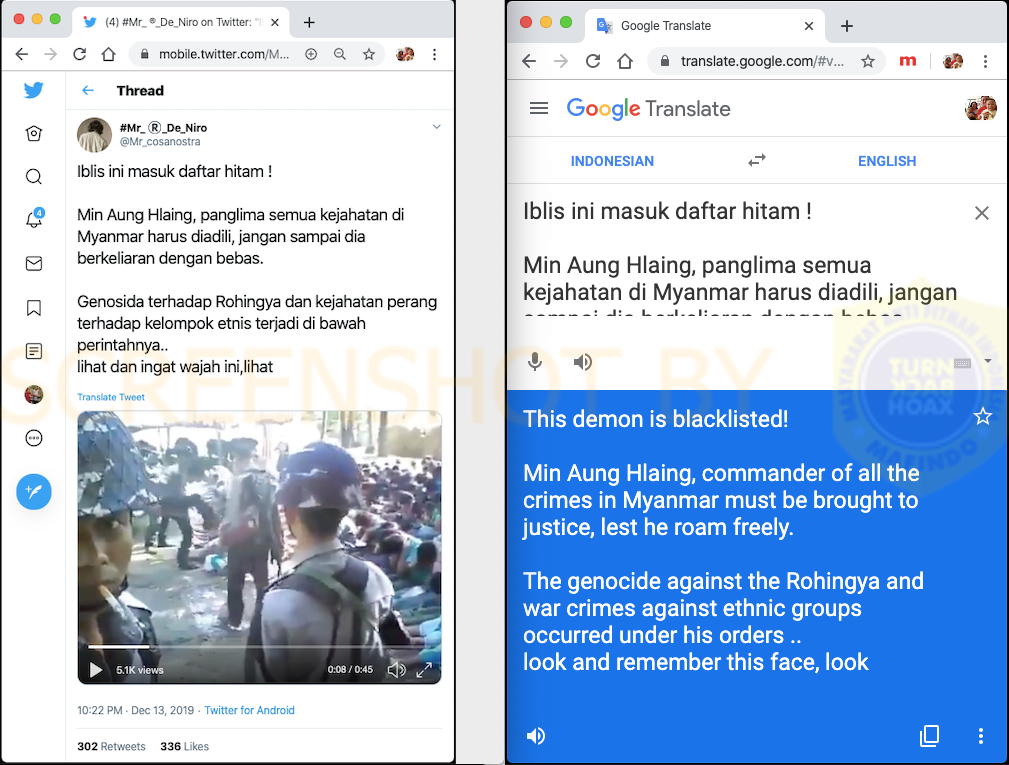 http://bit.ly/2PKdeRv "#Mr_ ®️_De_Niro" account (twitter.com/Mr_cosanostra), shared 302 times per screenshot was taken.
======
NARRATIVE
"This demon is blacklisted!
Min Aung Hlaing, commander of all the crimes in Myanmar must be brought to justice, lest he roam freely.
The genocide against the Rohingya and war crimes against ethnic groups occurred under his orders ..
look and remember this face, look".
======
EXPLANATION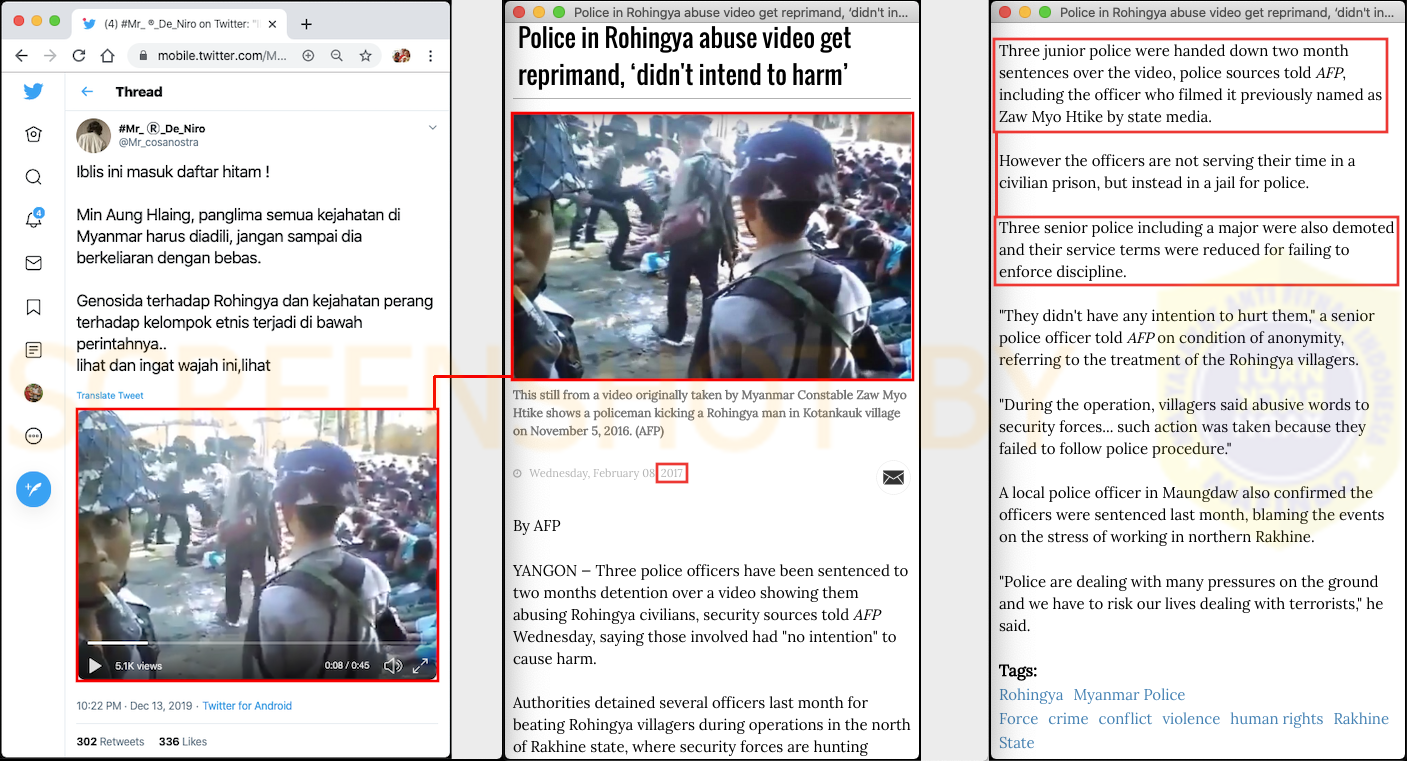 * Frontier Myanmar: "Three junior police were handed down two month sentences over the video, police sources told AFP, including the officer who filmed it previously named as Zaw Myo Htike by state media. … Three senior police including a major were also demoted and their service terms were reduced for failing to enforce discipline."
More @ http://bit.ly/2RV2pyw / http://archive.md/u4xA8 (backup archive).
======
REFERENCE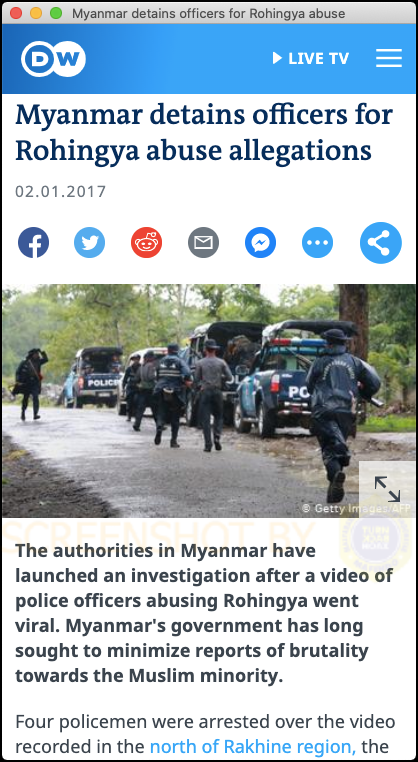 (1) DW: "The authorities in Myanmar have launched an investigation after a video of police officers abusing Rohingya went viral. Myanmar's government has long sought to minimize reports of brutality towards the Muslim minority."
More @ http://bit.ly/2YNYhSq / http://archive.md/22952 (backup archive).
---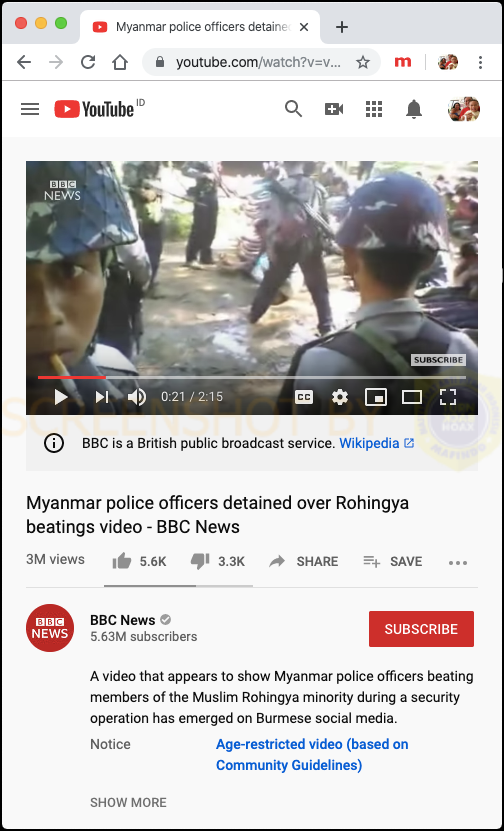 (2) YouTube: "Myanmar police officers detained over Rohingya beatings video – BBC News
3,025,078 views • Jan 3, 2017
BBC News
5.63M subscribers
A video that appears to show Myanmar police officers beating members of the Muslim Rohingya minority during a security operation has emerged on Burmese social media.
The government said the incident, apparently filmed by a police officer, happened in restive Rakhine"
Video @ http://bit.ly/2LWaKOK.
---
(3) http://archive.md/LiuY0, backup archive of SOURCE.
---
(4) http://bit.ly/35ysYxL, report (mention) to MAFINDO account (twitter.com/turnbackhoax).