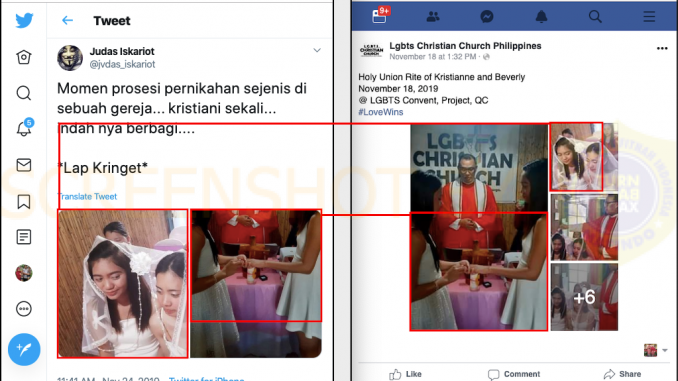 The procession took place in "LGBTS Christian Church Philippines" located in Quezon City, Philippines.
More @ EXPLANATION and REFERENCE section.
======
CATEGORY
Clarification.
======
SOURCE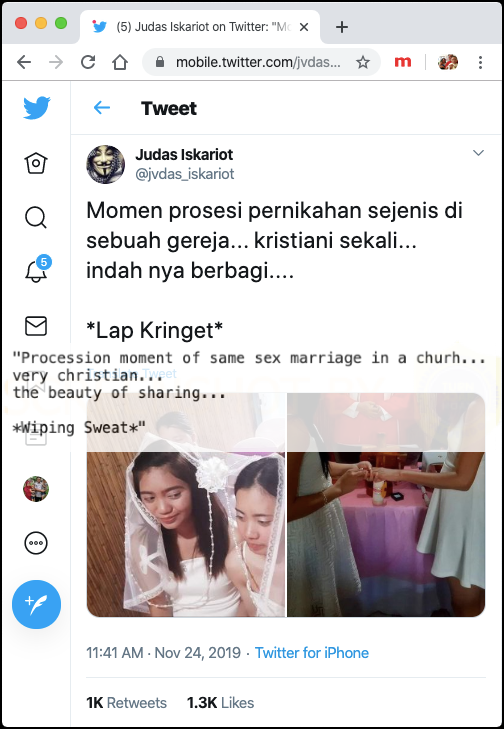 http://bit.ly/2rsnPbc / http://archive.md/oXjzg (backup archive), "Judas Iskariot" account (twitter.com/jvdas_iskariot). Shared 1.000 times per screenshot was made.
======
NARRATIVE
"Procession moment of same sex marriage in a churh… very christian…
the beauty of sharing…
*Wiping Sweat*"
("Momen prosesi pernikahan sejenis di sebuah gereja… kristiani sekali…
indah nya berbagi….
*Lap Kringet")
======
EXPLANATION
(1) Photo source: http://bit.ly/2Di7EQx / http://archive.md/C3PUN (backup archive)
Lgbts Christian Church Philippines (facebook.com/lgbtschristianchurchph): "Holy Union Rite of Kristianne and Beverly
November 18, 2019
@ LGBTS Convent, Project, QC
#LoveWins".
---
(2) "About
LGBTS CHRISTIAN CHURCH PHILIPPINES
Mobile Number: 09164260481
4 Alley 24 Proj6 QUEZON CITY Philippines. …"
More @ http://bit.ly/2QUScll / http://archive.md/VMAsL (backup archive).
======
REFERENCE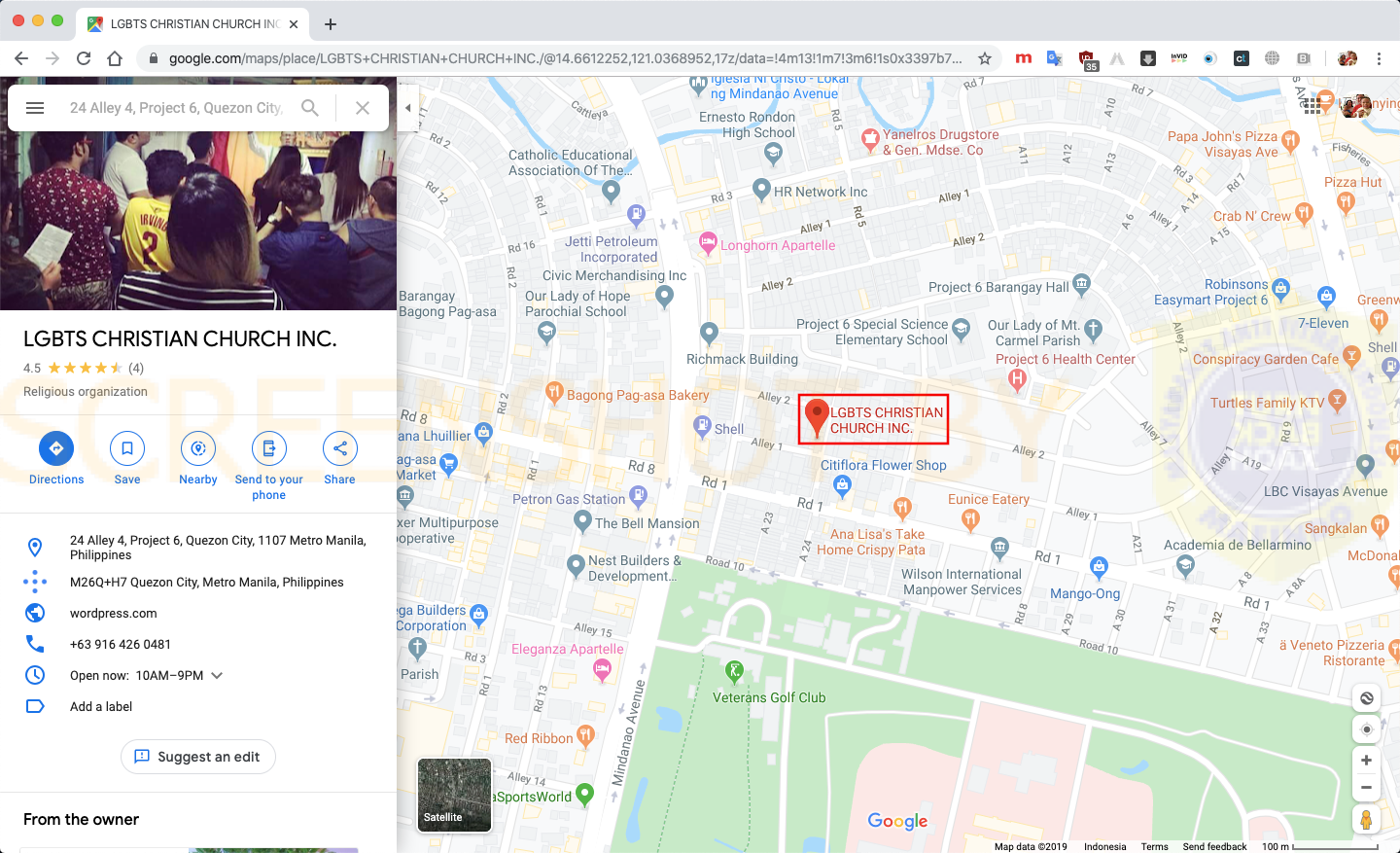 (1) Google Maps: "LGBTS CHRISTIAN CHURCH INC.
24 Alley 4, Project 6, Quezon City, 1107 Metro Manila, Philippines …"
More @ http://bit.ly/37HJcFY.
---
(2) Wikipedia: "Quezon City
Quezon City (UK: /ˈkeɪzɒn/, US: /ˈkeɪsɒn, -sɔːn, -soʊn/;[7][8][9][10] Tagalog: Lungsod Quezon [luŋˈsod ˈkɛson]; Spanish: Ciudad Quezon [sjuˈðað 'keson] (About this soundlisten); also known as QC or Kyusi)[11] is a highly urbanized city and the most populous city in the Philippines. It was founded by and named after Manuel L. Quezon, the 2nd President of the Philippines, to replace Manila as the national capital. The city was proclaimed as such in 1948, though a significant number of government buildings have remained in Manila. Quezon City held status as the official capital until 1976[12] when a presidential decree was issued to reinstate and designate Manila as the capital and Metro Manila as the seat of government.[13] …"
More @ http://bit.ly/2Dq1gGY.
---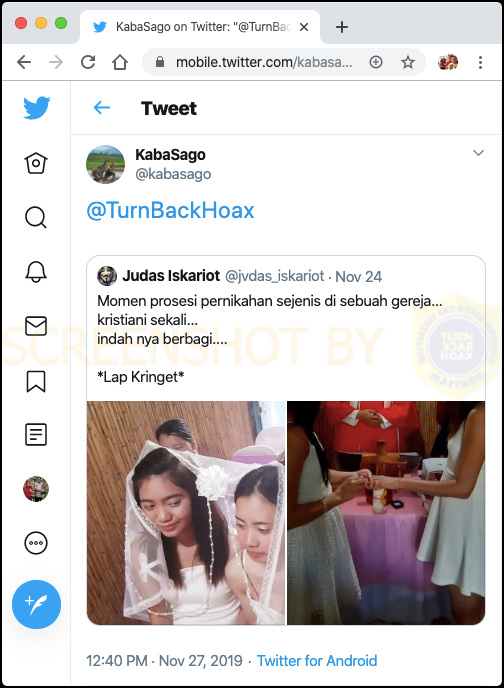 (3) http://bit.ly/2KZ1gSx, report (mention) to MAFINDO's account (twitter.com/turnbackhoax).
======
NOTES
* Source: http://bit.ly/34s8x4V.
* Clarified due to response (answers) and reshares to the SOURCE, which falsely concluded the procession took place in Indonesia.
* Also published in English due to the event took place outside of Indonesia.