NOT for stealing, Cristian Fernandez was on trial for the murder case of killing his own step brother. Also, the judge DID NOT "fined the store owner $10000 for handing over the hungry child to the police" as claimed by the narrative.
More in the EXPLANATION and REFERENCES section.
CATEGORY: False context.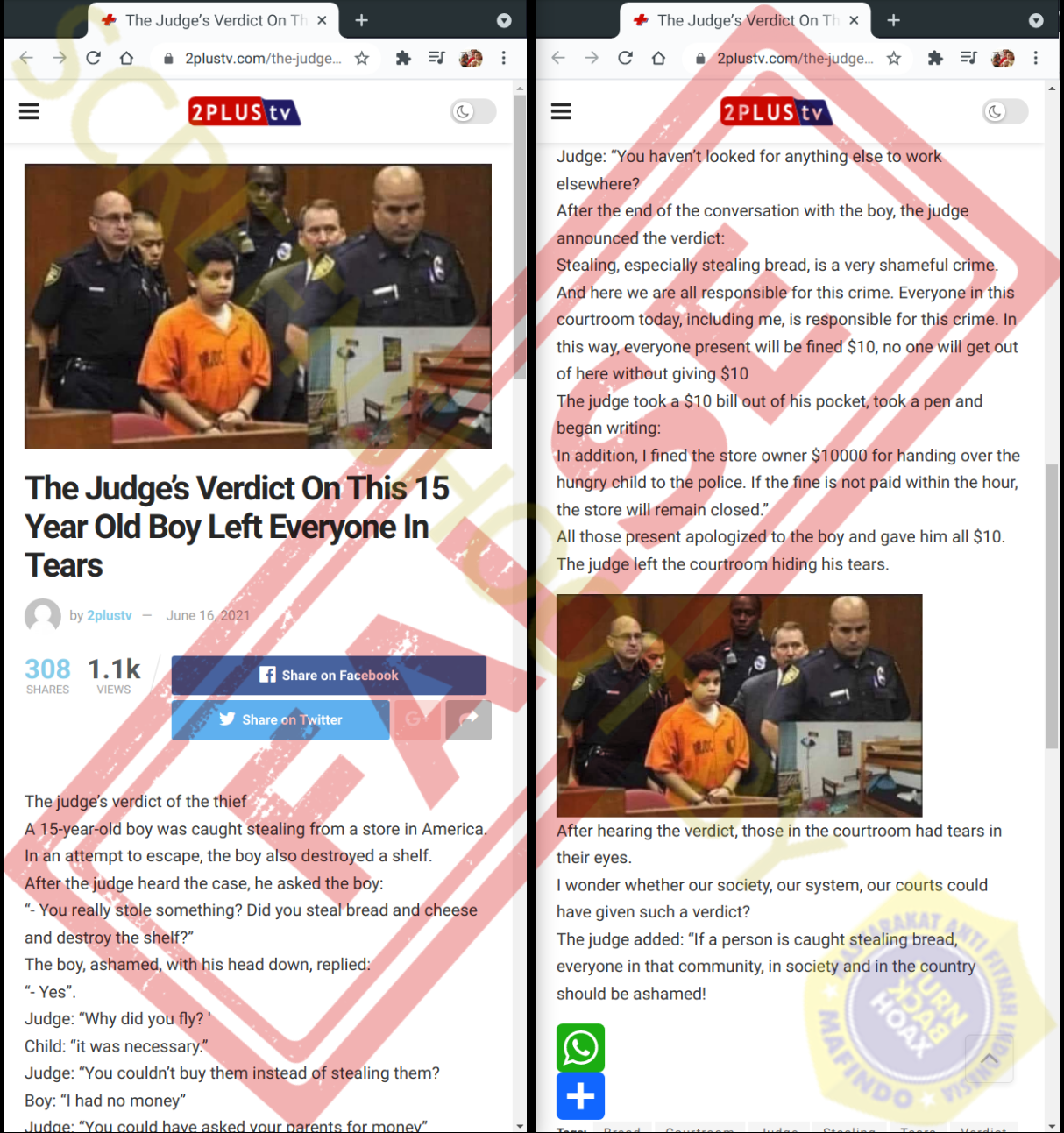 SOURCE: Web Page, https://archive.md/w62Fq (backup archive).
NARRATIVE: "The Judge's Verdict On This 15 Year Old Boy Left Everyone In Tears
The judge's verdict of the thief
A 15-year-old boy was caught stealing from a store in America.
In an attempt to escape, the boy also destroyed a shelf.
After the judge heard the case, he asked the boy: …" (more on the URL in the SOURCE section).
EXPLANATION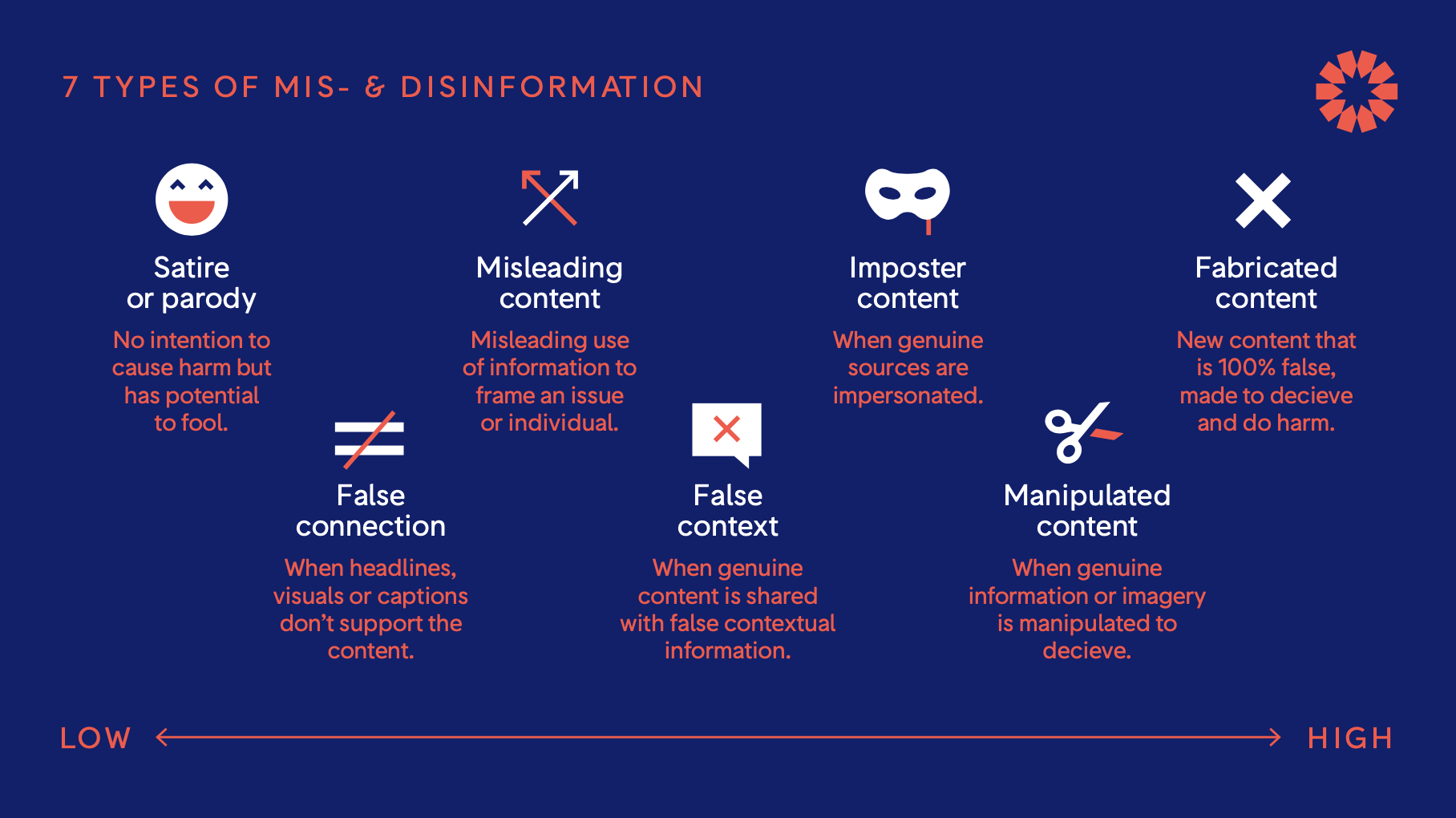 Based on 7 Types of Mis- and Disinformation by First Draft News, classified as "False context: When genuine content is shared with false contextual information" [1].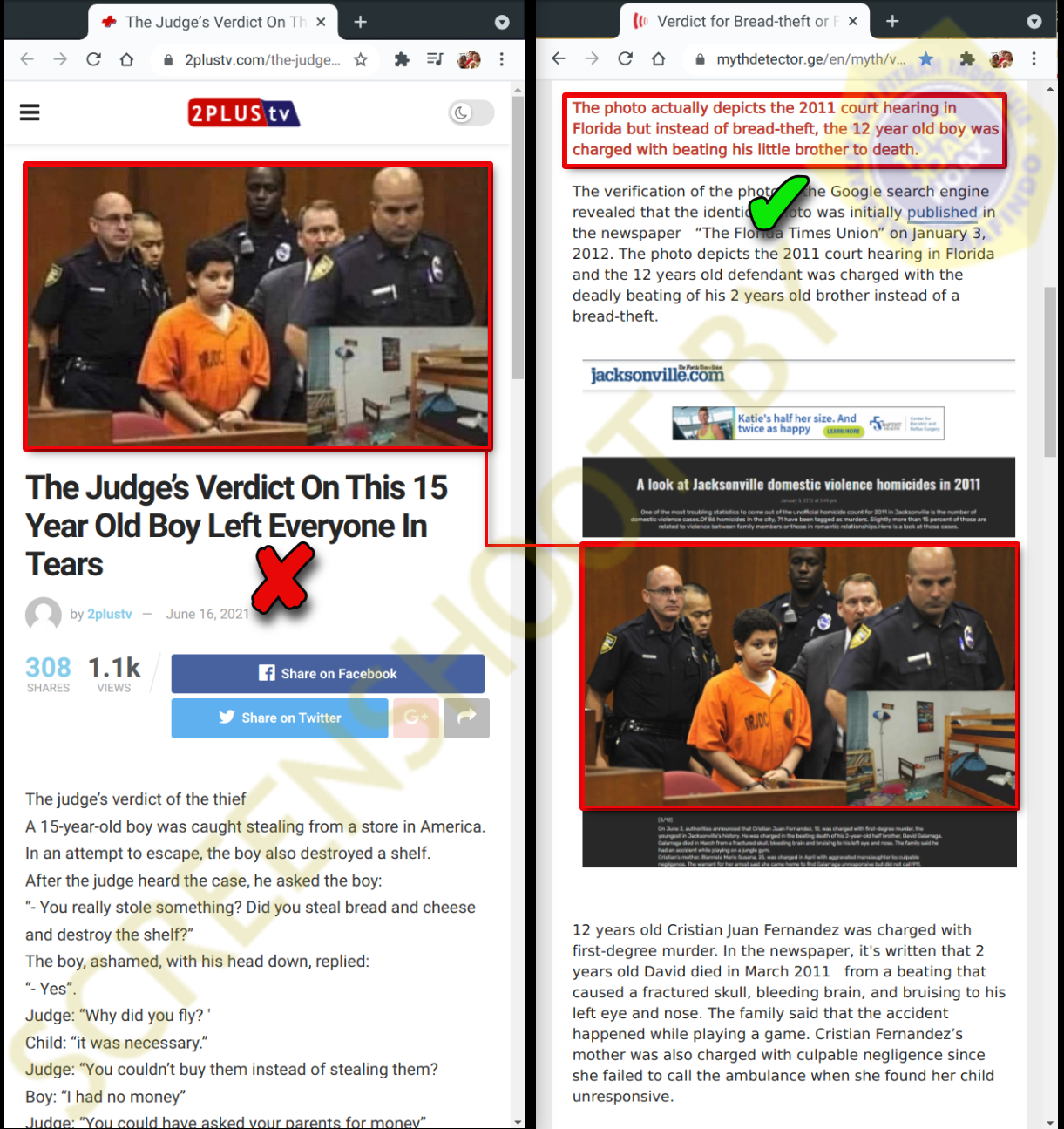 The SOURCE shared the image of Cristian Fernandez trial case with UNTRUE narrative, which has caused a FALSE conclusion.
Image Verification
Several related fact-check articles,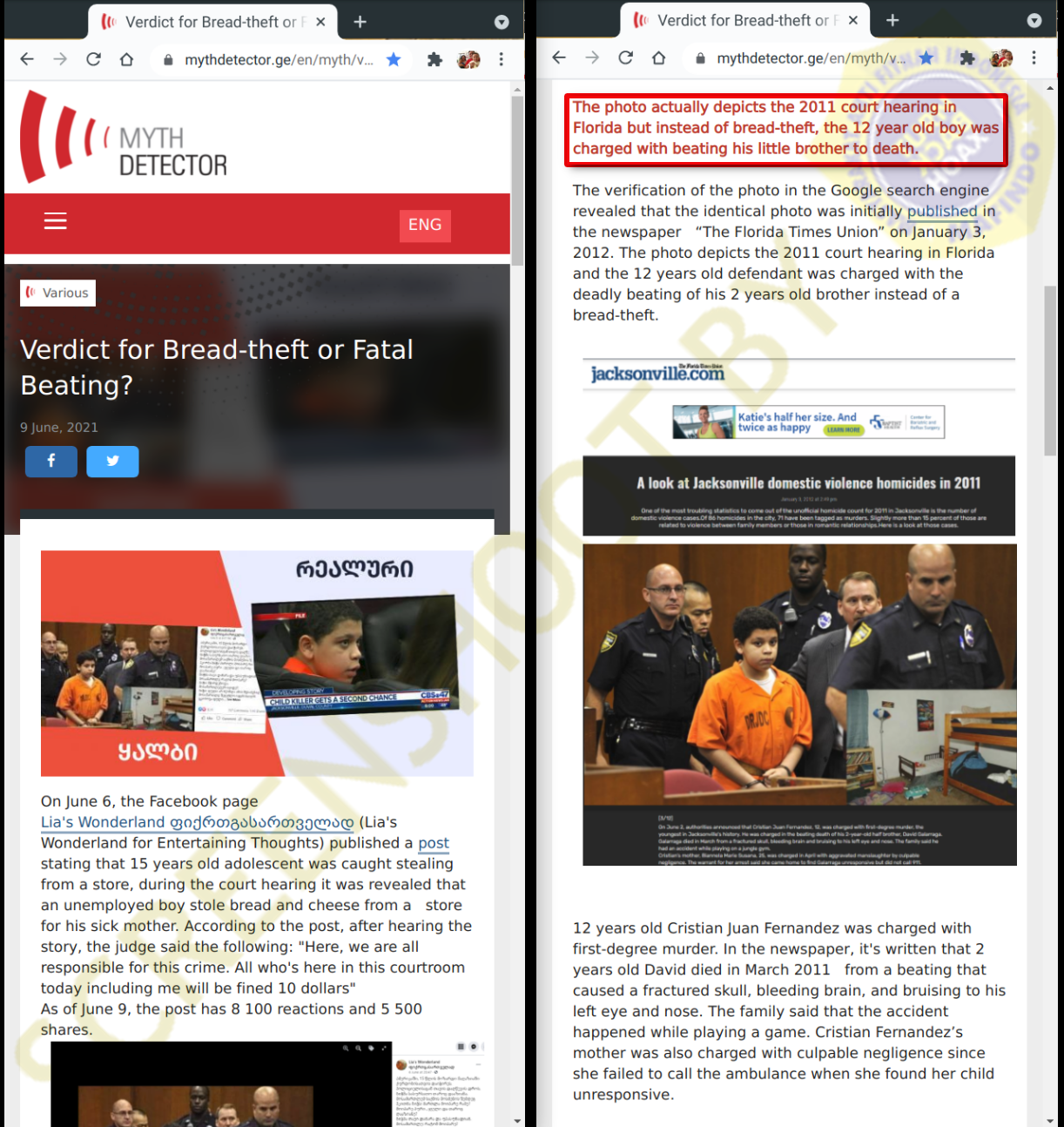 Myth Detector on June 9 2021: "The photo actually depicts the 2011 court hearing in Florida but instead of bread-theft, the 12 year old boy was charged with beating his little brother to death." [2]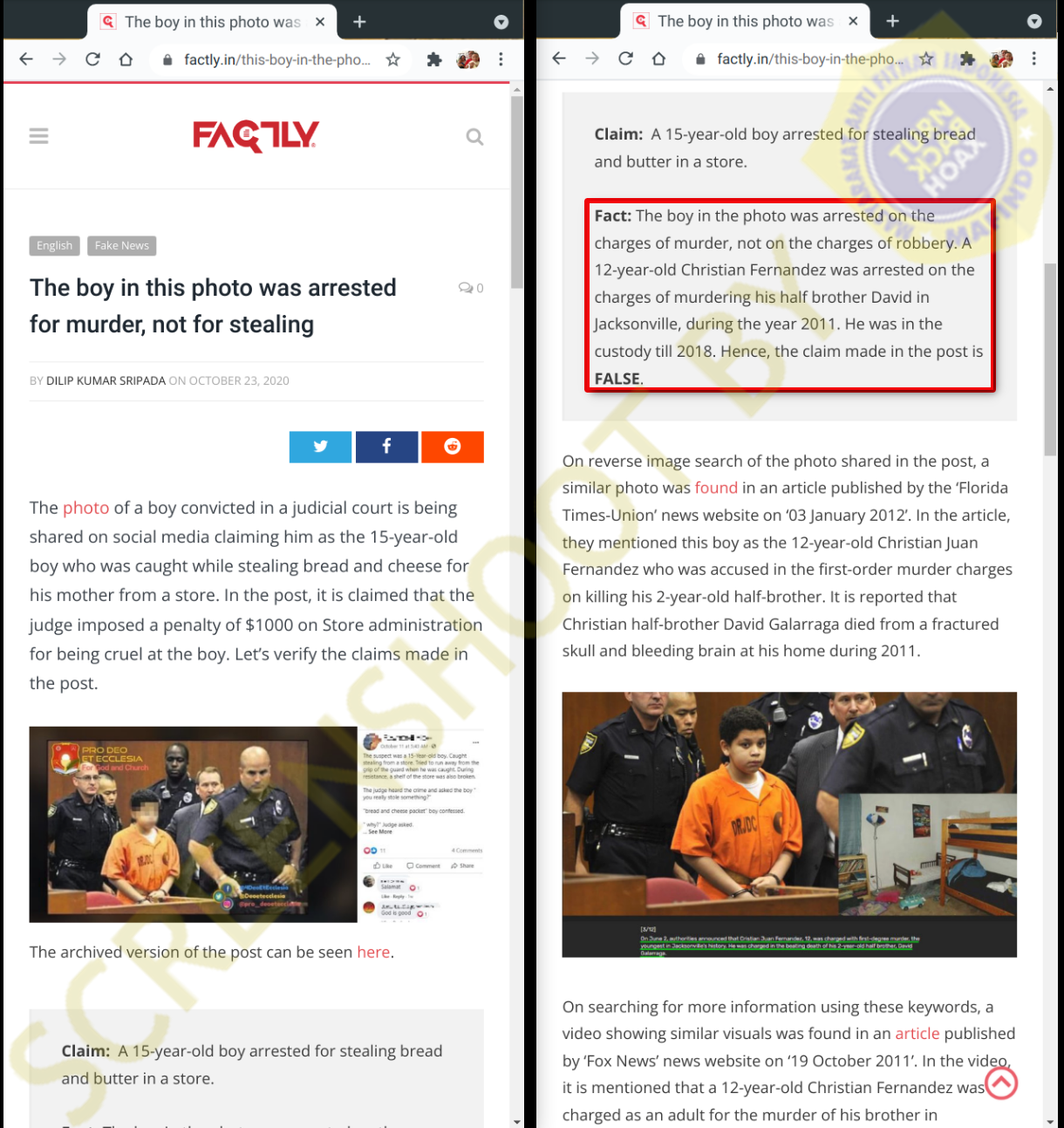 FACTLY on October 23 2020: "Fact: The boy in the photo was arrested on the charges of murder, not on the charges of robbery. A 12-year-old Christian Fernandez was arrested on the charges of murdering his half brother David in Jacksonville, during the year 2011. He was in the custody till 2018. Hence, the claim made in the post is FALSE." [3]
Other Related References
jacksonville.com on February 8 2013: "Cristian Fernandez, the youngest person charged as an adult with first-degree murder in Jacksonville history, received juvenile sanctions Friday for pleading guilty to manslaughter in the March 2011 death of his 2-year-old half brother." [4]
Murderpedia: "Classification: Homicide
Characteristics: Juvenile (12)
Number of victims: 1
Date of murder: March 14, 2011
Date of arrest: Same day
Date of birth: January 14, 1999
Victim profile: David Galarraga, 2 (his half brother)
Method of murder: Cristian repeatedly slammed his head on a bookshelf to kill him
Location: Jacksonville, Duval County, Florida, USA
Status: Pleaded guilty to manslaughter and aggravated battery on February 7, 2013. Cristian will be released from the Department of Juvenile Justice on his 19th birthday in January 2018″ [5]
REFERENCES
[1] firstdraftnews.org: "Understanding Information disorder", https://bit.ly/34P3vBc / https://archive.md/02Dro (backup archive).
[2] mythdetector.de: "Verdict for Bread-theft or Fatal Beating?", https://bit.ly/3HuLoCA / https://archive.md/Q1PYa (backup archive).
[3] factly.in: "The boy in this photo was arrested for murder, not for stealing", https://bit.ly/3oxklhA / https://archive.md/OIJJR (backup archive).
[4] jacksonville.com: "Cristian Fernandez pleads guilty to manslaughter, gets juvenile sanctions", https://archive.md/dOFBt (backup archive).
[5] murderpedia.org: "Cristian FERNANDEZ", https://bit.ly/3nk0Qtm / https://archive.md/dOFBt (backup archive).