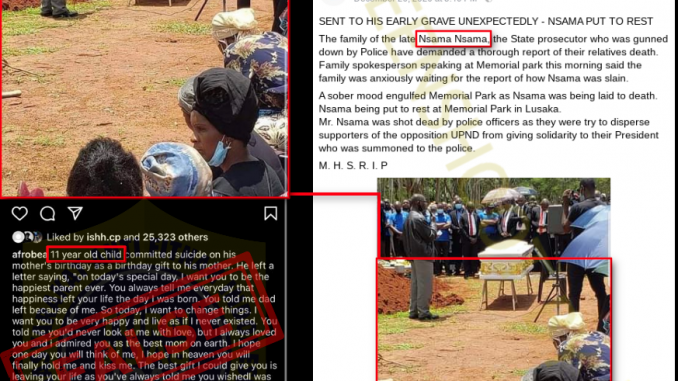 INCORRECT narrative. The FACT is, the photo is related to the burial of the late Nsama Nsama Chipyoka, one of the victims who were gunned down on December 23 2020 in Lusaka, Zambia.
More in the EXPLANATION and REFERENCE section.
CATEGORY: False Context.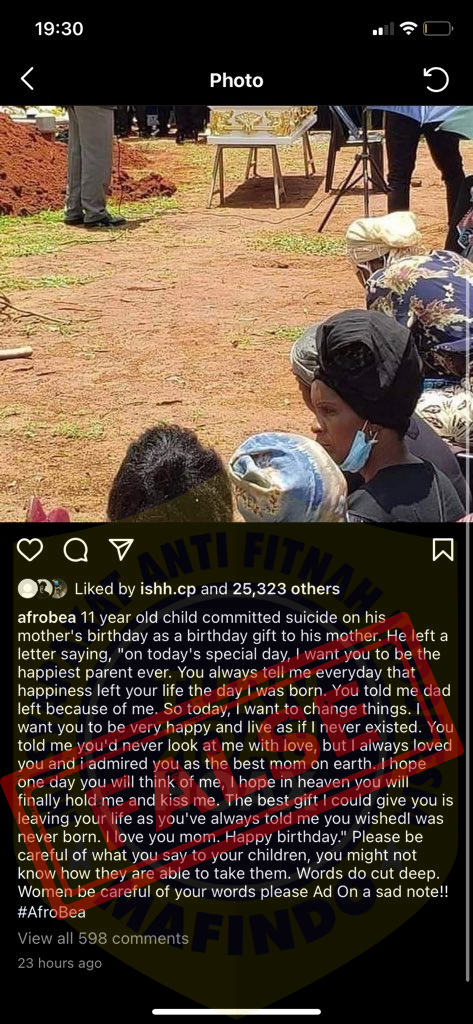 –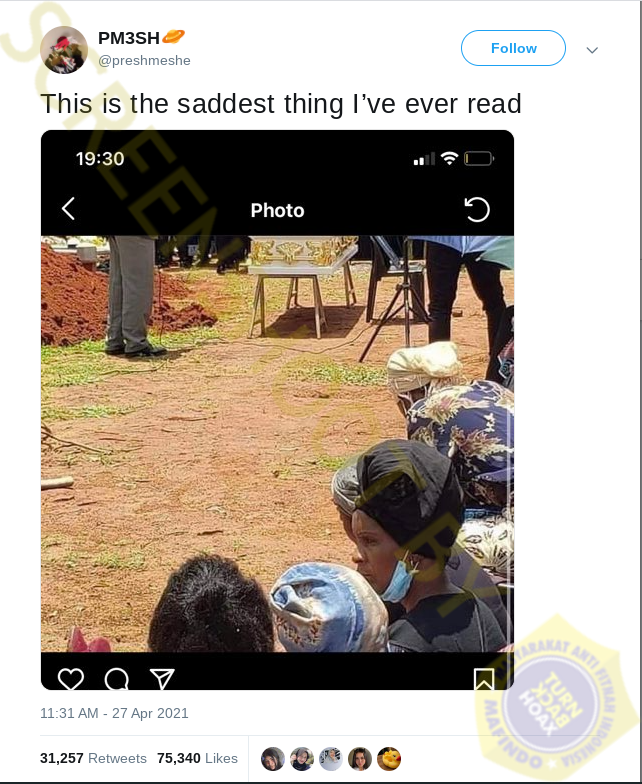 SOURCE: Twitter, https://archive.md/YHXs4 (backup archive).
NARRATIVE: "11 year old child committed suicide on his mother's birthday as a birthday gift to his mother. He left a letter saying, "on today's special day, I want you to be the happiest parent ever. You always tell me everyday that happiness left your life the day I was born. You told me dad left because of me. So today, I want to change things. I want you to be very happy and live as if I never existed. You told me you'd never look at me with love, but I always loved you and i admired you as the best mom on earth. I hope one day you will think of me, I hope in heaven you will finally hold me and kiss me. The best gift I could give you is leaving your life as you've always told me you wishedl was never born. I love you mom. Happy birthday." Please be careful of what you say to your children, you might not know how they are able to take them. Words do cut deep. Women be careful of your words please Ad On a sad note!! #AfroBea".
EXPLANATION
Based on 7 Types of Mis- and Disinformation by First Draft, classified as "False Context: When genuine content is shared with false contextual information" [1].
–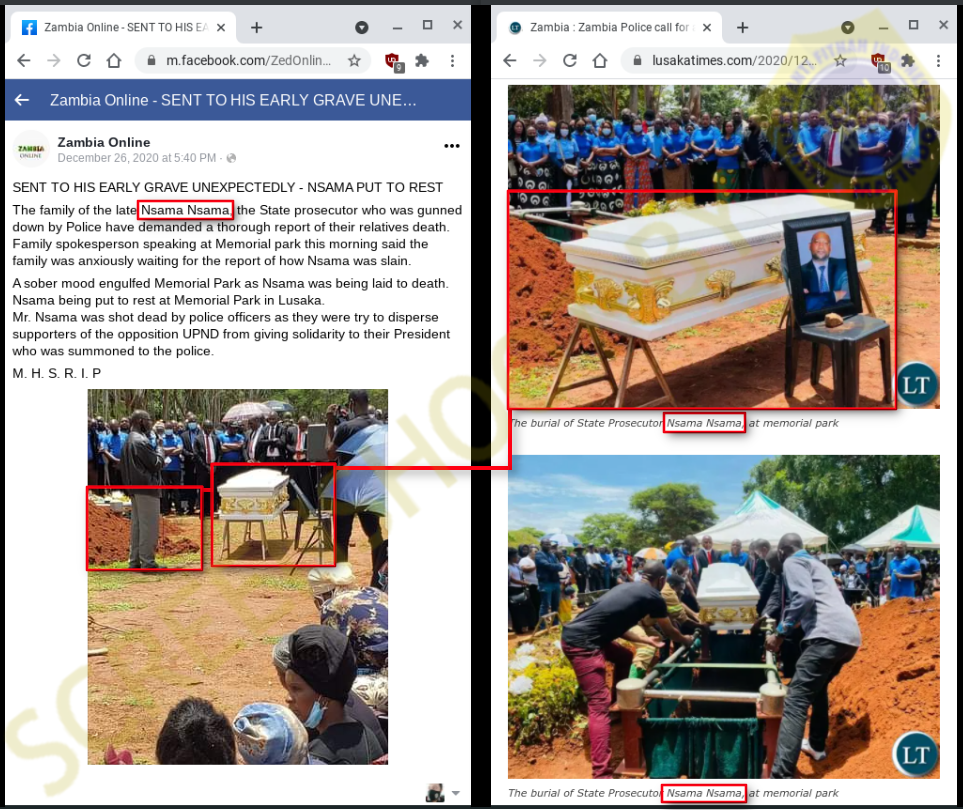 The SOURCE shared a picture of the burial of the late Nsama Nsama Chipyoka using FALSE narrative, which has caused FALSE conclusion.
Image Verification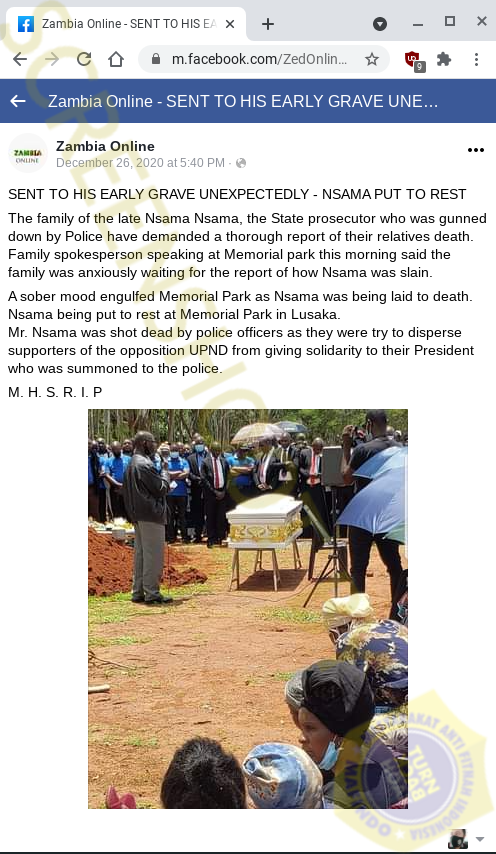 Similar picture, the initial clue reported by "oceanflyer" [2], found on "Zambia Online" Facebook Page. Description: "The family of the late Nsama Nsama, the State prosecutor who was gunned down by Police have demanded a thorough report of their relatives death. Family spokesperson speaking at Memorial park this morning said the family was anxiously waiting for the report of how Nsama was slain." [3]
Other Related References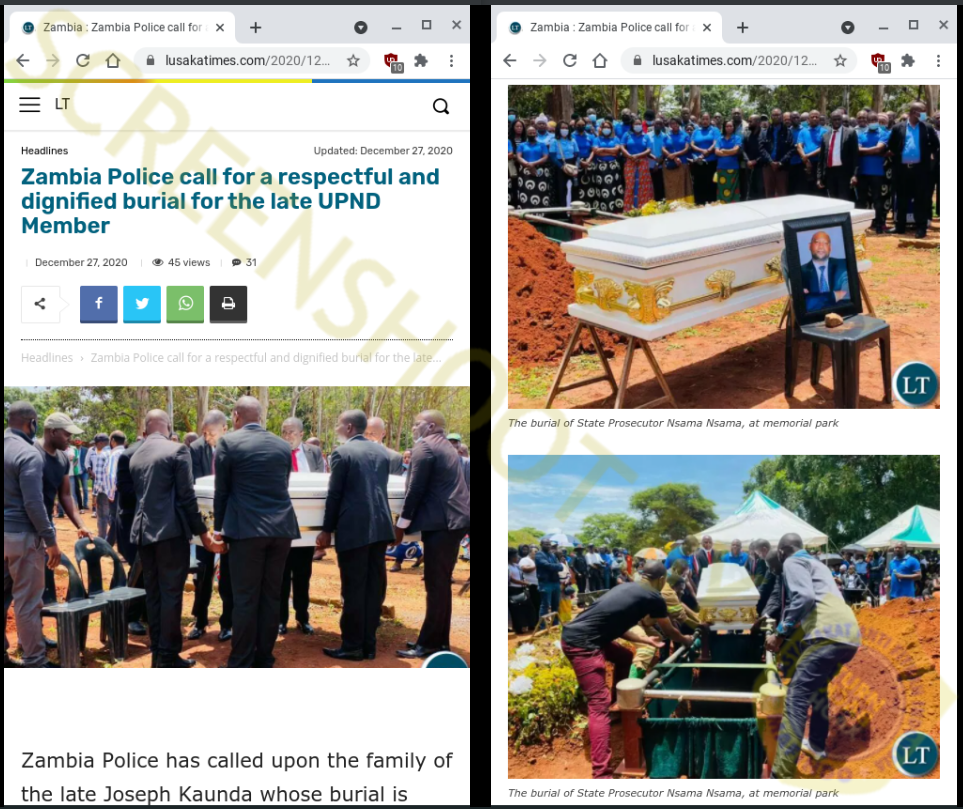 Lusakatimes.com: "Zambia Police has called upon the family of the late Joseph Kaunda whose burial is scheduled for today to emulate the family of the late Nsama to have their departed relative buried in a respectful manner and allow the investigations in the matter to be concluded." [4]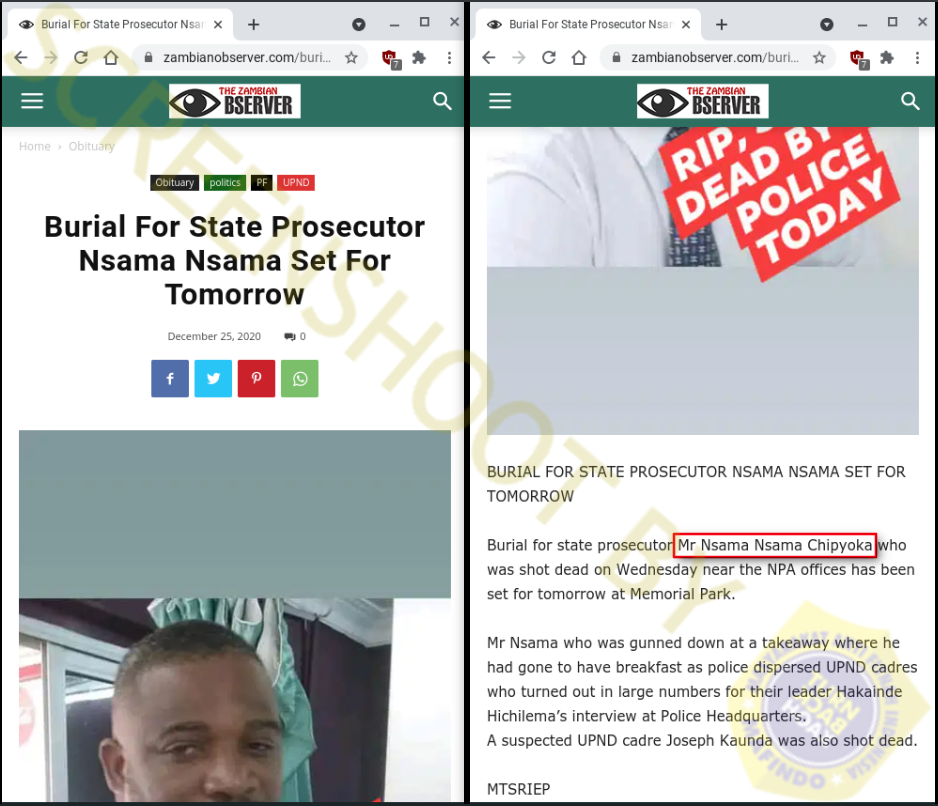 Zambianobserver.com: "Burial for state prosecutor Mr Nsama Nsama Chipyoka who was shot dead on Wednesday near the NPA offices has been set for tomorrow at Memorial Park." [5]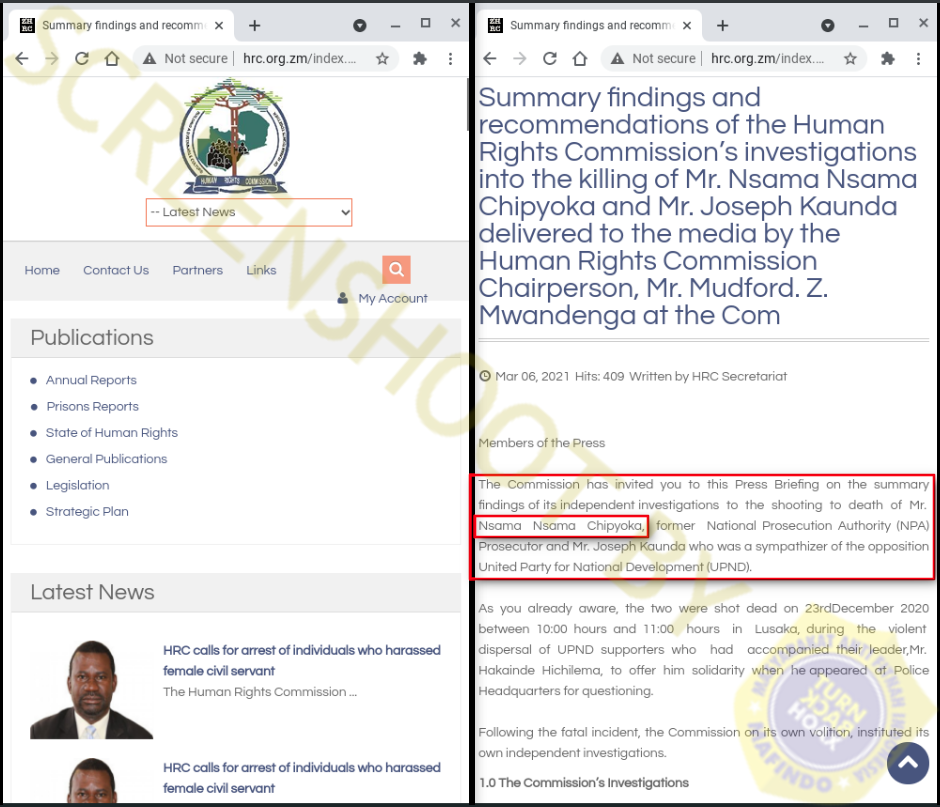 Human Rights Commission: "The Commission has invited you to this Press Briefing on the summary findings of its independent investigations to the shooting to death of Mr. Nsama Nsama Chipyoka, former National Prosecution Authority (NPA) Prosecutor and Mr. Joseph Kaunda who was a sympathizer of the opposition United Party for National Development (UPND)." [6]
Google Earth: "Lusaka is the capital of Zambia. In the center, sprawling Lusaka City Market sells clothing, produce and other goods. The National Museum exhibits archaeological finds and contemporary art. Nearby, the Freedom Statue commemorates Zambia's struggle for independence. South of the city, Munda Wanga Environmental Park has a wildlife sanctuary and botanical garden. The Lilayi Elephant Nursery cares for orphaned elephants." [7]
REFERENCE
[1] firstdraftnews.org: "Fake news. It's complicated.", http://bit.ly/2qYG8Rs, https://archive.md/IT2vQ (backup archive).
[2] twitter.com/oceanflyer1, https://archive.md/1AL6O (backup archive).
[3] facebook.com/ZedOnline: "SENT TO HIS EARLY GRAVE UNEXPECTEDLY – NSAMA PUT TO REST", https://bit.ly/3eQX8Sq / print to PDF for backup archive.
[4] lusakatimes.com: "Zambia Police call for a respectful and dignified burial for the late UPND Member", https://bit.ly/3gUXdHv / https://archive.md/oRrBQ (backup archive).
[5] zambianobserver.com: "Burial For State Prosecutor Nsama Nsama Set For Tomorrow", https://bit.ly/3ugdVos / https://archive.md/b9uJH (backup archive).
[6] hrc.org.zm: "Summary findings and recommendations of the Human Rights Commission's investigations into the killing of Mr. Nsama Nsama Chipyoka and Mr. Joseph Kaunda delivered to the media by the Human Rights Commission Chairperson, Mr. Mudford. Z. Mwandenga at the Com", https://bit.ly/3aYtjyp / https://archive.md/6d1cZ (backup archive).
[7] earth.google.com: "Lusaka Capital of Zambia", https://bit.ly/3nJdxwy.
NOTES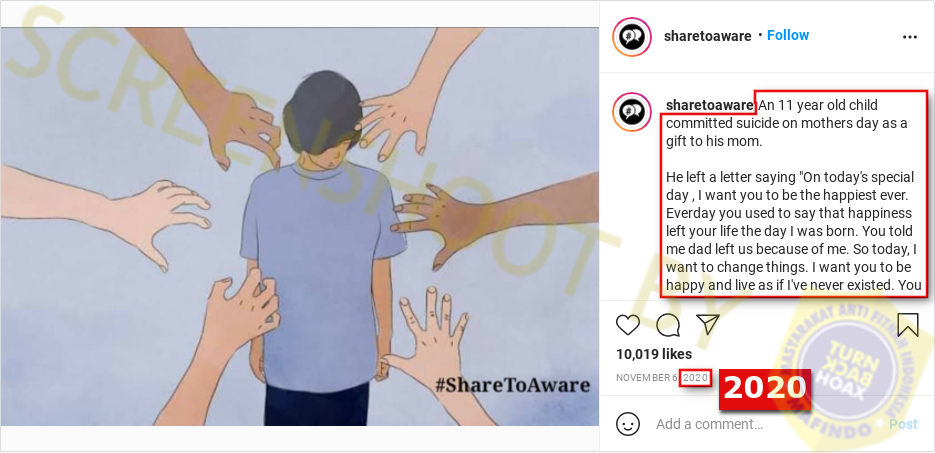 One of the sources that also shared similar narrative on last year (2020), https://archive.md/FSWpJ (backup archive).