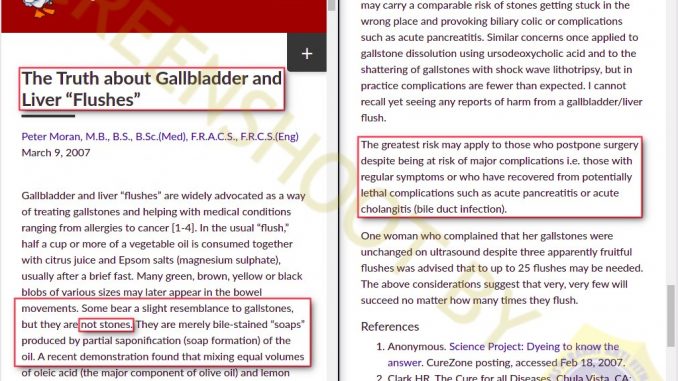 The claimed "you will find green stones in your stools" are NOT Gallstones. The FACT is, it's merely a bile-stained "soaps" produced by partial saponification (soap formation) of the oil. Although it's generally safe for those who reasonably health (with NO complicating factors), greatest risk may apply to those who postpone surgery.
More in EXPLANATION and REFERENCE section.
CATEGORY: MISLEADING CONTENT.
SOURCE: Facebook, https://archive.st/6x3x (backup archive).
EXPLANATION
Based on "7 Types of Mis- and Disinformation", categorized as "MISLEADING CONTENT: Misleading use of information to frame an issue or individual" because the SOURCE shared FALSE information which preaviously already clarified (First Draft, February 16 2017) [1].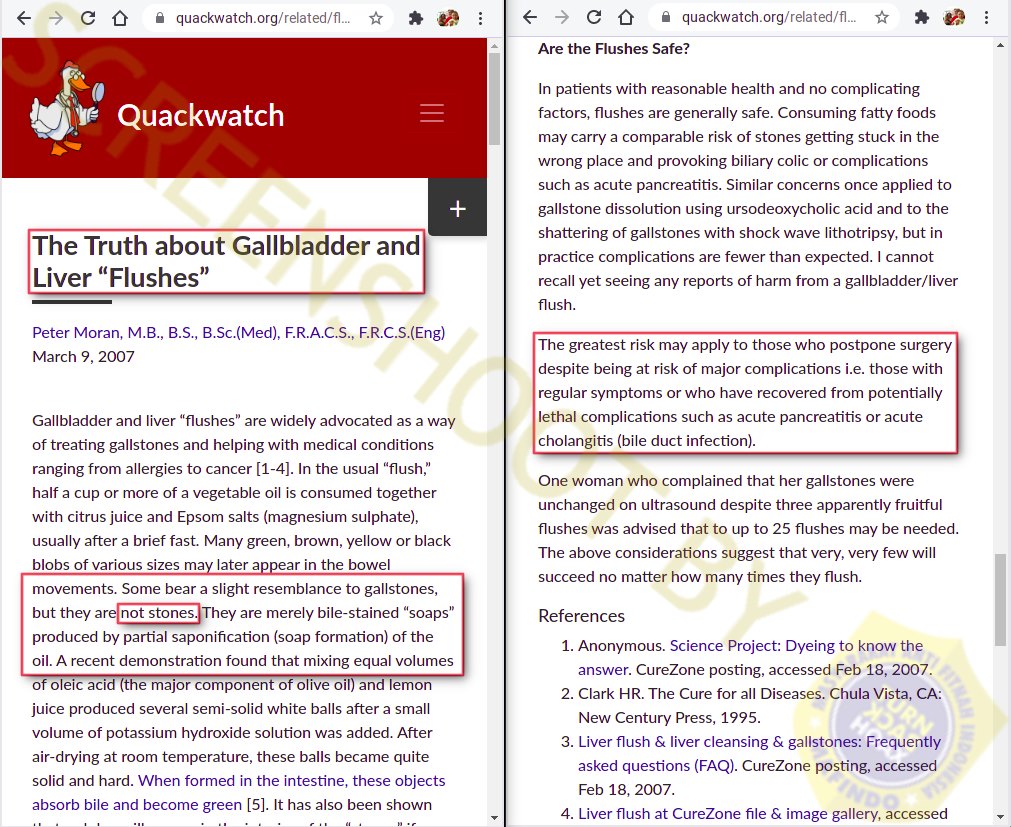 As explained by Peter Moran, MB, BS, B.Sc. (Med), FRACS, FRCS (Eng), the claimed "you will find green stones in your stools" is FALSE because: "Many green, brown, yellow or black blobs of various sizes may later appear in the bowel movements. Some bear a slight resemblance to gallstones, but they are not stones. They are merely bile-stained "soaps" produced by partial saponification (soap formation) of the oil."
And, also explained that "In patients with reasonable health and no complicating factors, flushes are generally safe. Consuming fatty foods may carry a comparable risk of stones getting stuck in the wrong place and provoking biliary colic or complications such as acute pancreatitis." (Malaysian Medical Resources, July 11 2009. Source: Quackwatch, March 9 2007) [2] [3].
Some of Other Related References
Regarding "Saponification": "Saponification is a process that involves the conversion of fat, oil, or lipid, into soap and alcohol by the action of heat in the presence of aqueous alkali (e.g. NaOH). Soaps are salts of fatty acids and fatty acids are monomers of lipids that have long carbon chains (at least 10) e.g. sodium palmitate." (Wikipedia, also check the references list ) [4]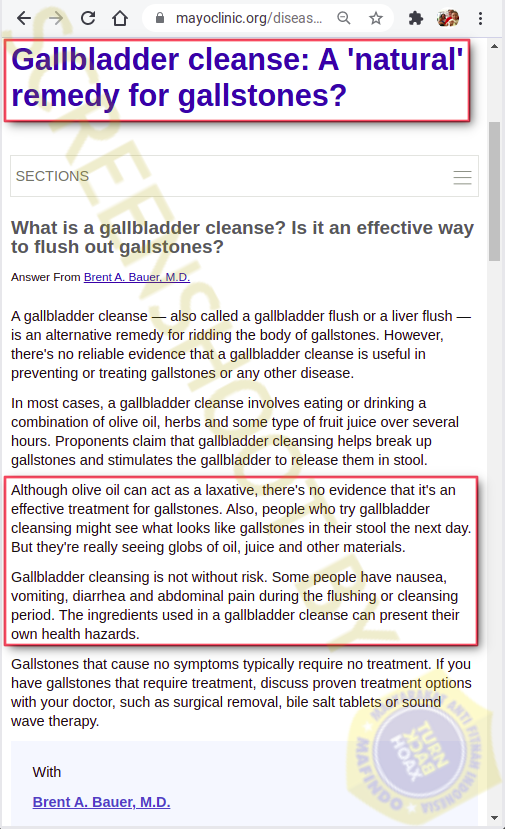 According to Brent A. Bauer, MD: "Although olive oil can act as a laxative, there's no evidence that it's an effective treatment for gallstones. Also, people who try gallbladder cleansing might see what looks like gallstones in their stool the next day. But they're really seeing globs of oil, juice and other materials. Gallbladder cleansing is not without risk. Some people have nausea, vomiting, diarrhea and abdominal pain during the flushing or cleansing period. The ingredients used in a gallbladder cleanse can present their own health hazards." (Mayo Clinic, April 3 2020) [5].
Regarding the use of Apple Juice, internist dr Tirza Gwendoline SpPD: ""There is no evidence based. Many people consider it a traditional therapy but it has not been proven by research on the side effects and benefits of apple juice (for gallstones)," (VIVA.co.id, January 9 2017) [6].
Regarding with natural options to cure Gallstones, Debra Rose Wilson, Ph.D., MSN, RN, IBCLC, AHN-BC, CHT: "Talk with your doctor before trying to treat gallstones on your own. Your doctor can help you receive the correct diagnosis. They can also advise you on all of your treatment options. If you have yellowing of the eyes, fever or chills, and intense abdominal pain, seek medical care immediately.
Gallbladder cleanse
Apple juice
Apple cider vinegar
Yoga
Milk thistle
Artichoke
Gold coin grass
Castor oil pack
Acupuncture" (Healthline, August 21 2017 dan updated on March 7 2019) [7].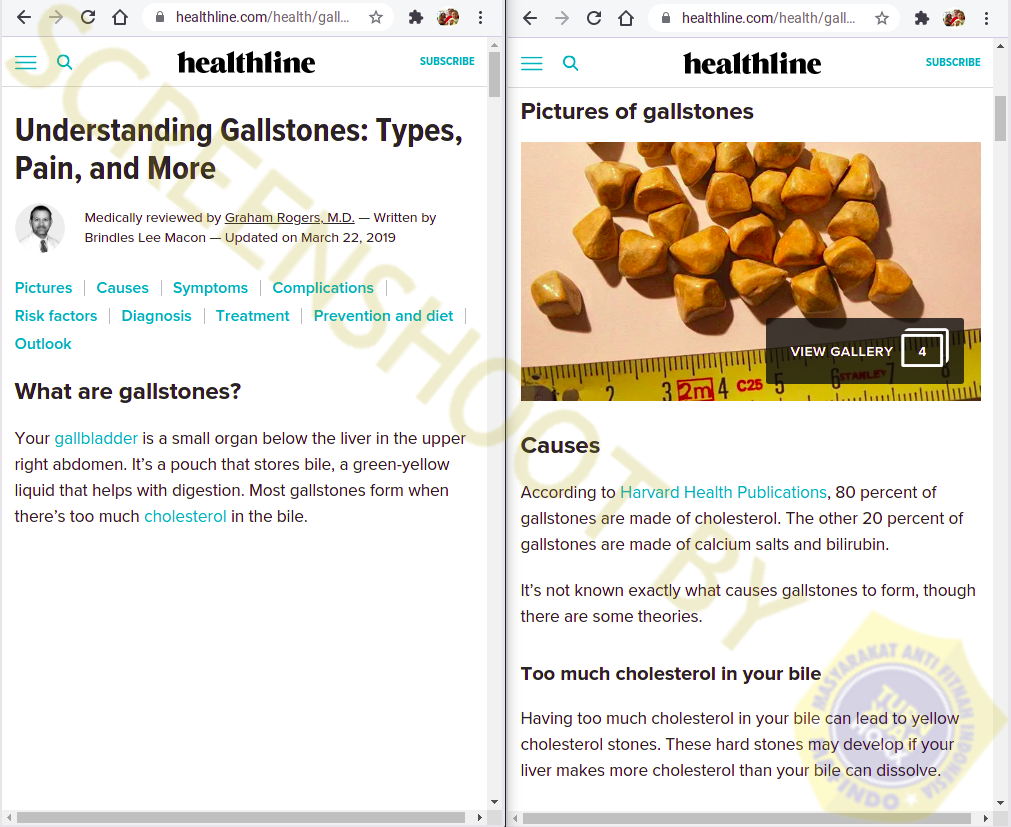 Also from Healthline, Graham Rogers, MD: "Your gallbladder is a small organ below the liver in the upper right abdomen. It's a pouch that stores bile, a green-yellow liquid that helps with digestion. Most gallstones form when there's too much cholesterol in the bile." (Written by Brindles Lee Macon, June 1 2017 and updated on March 22 2019) [8].
Important critical care aspects associated with a gallstone-related disease, J Crit Care Med (Targu Mures): "Approximately twenty per cent of adults have gallstones making it one of the most prevalent gastrointestinal diseases in Western countries. About twenty per cent of gallstone patients requires medical, endoscopic, or surgical therapies such as cholecystectomy due to the onset of gallstone-related symptoms or gallstone-related complications. Thus, patients with symptomatic, uncomplicated or complicated gallstones, regardless of the type of stones, represent one of the largest patient categories admitted to European hospitals." (PMC, February 4 2019) [9].
Also from PMC, Niger J Surg.: "Gallstone disease is a worldwide medical problem, but the incidence rates show substantial geographical variation, with the lowest rates reported in African populations. Publications in English language on gallstones which were obtained from reprint requests and PubMed database formed the basis for this paper. Data extracted from these sources included authors, country, year of publication, age and sex of patients, pathogenesis, risk factors for development of gallstones, racial distribution, presenting symptoms, complications and treatment. Gallstones occur worldwide, however it is commonest among North American Indians and Hispanics but low in Asian and African populations. High biliary protein and lipid concentrations are risk factors for the formation of gallstones, while gallbladder sludge is thought to be the usual precursor of gallstones. Biliary calcium concentration plays a part in bilirubin precipitation and gallstone calcification. Treatment of gallstones should be reserved for those with symptomatic disease, while prophylactic cholecystectomy is recommended for specific groups like children, those with sickle cell disease and those undergoing weight-loss surgical treatments. Treatment should be undertaken for a little percentage of patients with gallstones, as majority of those who harbor them never develop symptoms. The group that should undergo cholecystectomy include those with symptomatic gallstones, sickle cell disease patients with gall stones, and patients with morbid obesity who are undergoing laparotomy for other reasons." (PMC, July-December 2013) [10].
REFERENCE
[1] firstdraftnews.org: "Fake news. It's complicated.", http://bit.ly/2qYG8Rs, https://archive.md/IT2vQ (backup archive).
[2] medicine.com.my: "The liver flush revisited", https://bit.ly/2ZF9g1V / https://archive.md/rxXg3 (backup archive).
[3] quackwatch.org: "The Truth about Gallbladder and Liver "Flushes"", http://bit.ly/2ZIt2JS / https://archive.md/rxXg3 (backup archive).
[4] wikipedia.org: "Saponification", http://bit.ly/2ZEzqlr / https://archive.md/BcRYy (backup archive).
[5] mayoclinic.org: "Gallbladder cleanse: A 'natural' remedy for gallstones?", http://mayocl.in/3aM1euA / https://archive.md/xP35Z (backup archive).
[6] viva.co.id: "Apple juice remove gallstones, hoax or not?", http://bit.ly/2MhMryf (Google Translate) / https://archive.st/iior (backup archive).
[7] healthline.com: "Are There Natural Ways to Treat Gallstones?", http://bit.ly/2NNmTJE / https://archive.md/4ryMz (backup archive).
[8] healthline.com: "Understanding Gallstones: Types, Pain, and More", http://bit.ly/3urJ9tx / https://archive.md/GRMVv (backup archive).
[9] ncbi.nlm.nih.gov/pmc: "Critical Care Aspects of Gallstone Disease", http://bit.ly/3ujDg1r / https://archive.md/tSSr6 (backup archive).
[10] ncbi.nlm.nih.gov/pmc: "Gallstones", http://bit.ly/2NnLEMP / https://archive.md/rkz5D (backup archive).
NOTES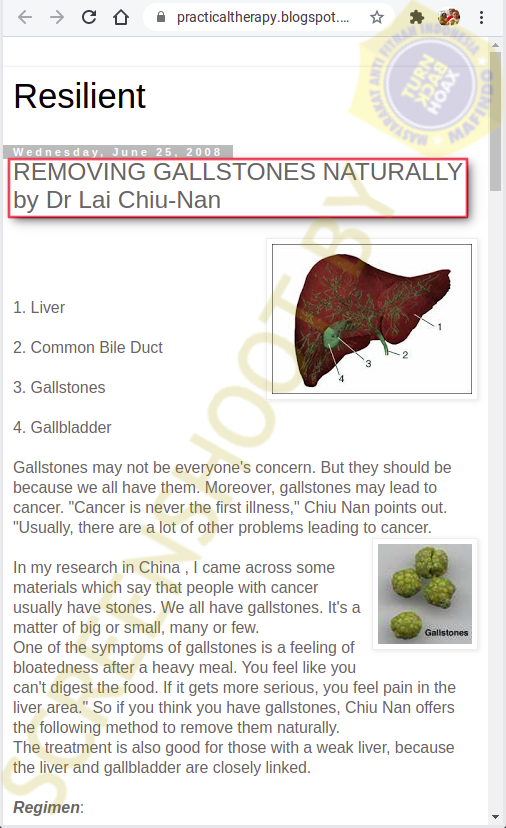 * One of Blog site with the article on June 25 2008, practicaltherapy.blogspot.com: "REMOVING GALLSTONES NATURALLY by Dr Lai Chiu-Nan" https://archive.md/Y0twb (backup archive).
* This article is the English version of turnbackhoax.id: "[SALAH] "Tips Kesehatan Membuang Batu Empedu"" https://bit.ly/2NxaZUv (Bahasa Indonesia).
* Copy of narrative by SOURCE: "REMOVING GALLSTONES NATURALLY
By: Dr. Lai Chiu Nan
It has worked for many. If it works for you please pass on the good news. Dr. Lai is not charging for it, so we should make it free for everyone. Your reward is when someone, through your word of mouth, benefits from the regime. Gallstones may not be everyone's concern. But they should be because we all have them. Moreover, gallstones may lead to cancer. "Cancer is never the first illness," Dr. Lai points out. "Usually, there are a lot of other problems leading to cancer.
In my research in China , I came across some materials which say that people with cancer usually have stones. We all have gallstones. It's a matter of big or small, many or few.
One of the symptoms of gallstones is a feeling of bloatedness after a heavy meal. You feel like you can't digest the food. If it gets more serious, you feel pain in the liver area." So if you think you have gallstones, Dr. Lai offers the following method to remove them naturally.
The treatment is also good for those with a weak liver, because the liver and gallbladder are closely linked.
Regimen:
For the first five days, take four glasses of apple juice every day. Or eat four or five apples, whichever you prefer. Apple juice softens the gallstones. During the five days, eat normally.
On the sixth day, take no dinner.
At 6 PM, take a teaspoon of Epsom salt (magnesium sulphate) with a glass of warm water.
At 8 PM, repeat the same. Magnesium sulphate opens the gallbladder ducts.
At 10 PM, take half cup olive oil (or sesame oil) with half cup fresh lemon juice. Mix it well and drink it. The oil lubricates the stones to ease their passage.
The next morning, you will find green stones in your stools. "Usually they float," Chiu Nan notes. "You might want to count them. I have had people who passes 40, 50 or up to 100 stones. Very many."
"Even if you don't have any symptoms of gallstones, you still might have some. It's always good to give your gall bladder a clean-up now and then.
Now you know!!!".