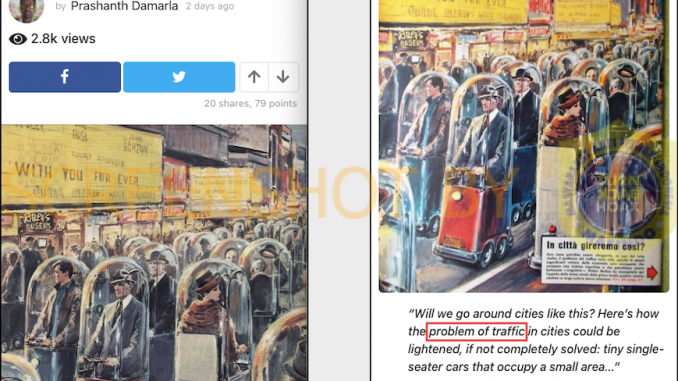 NOT specifically mentioned the year of 2022. Also, the correct context is referring to traffic congestion, NOT to any of COVID-19 aspects.
More @ EXPLANATION and REFERENCE section.
======
CATEGORY
False context.
======
SOURCE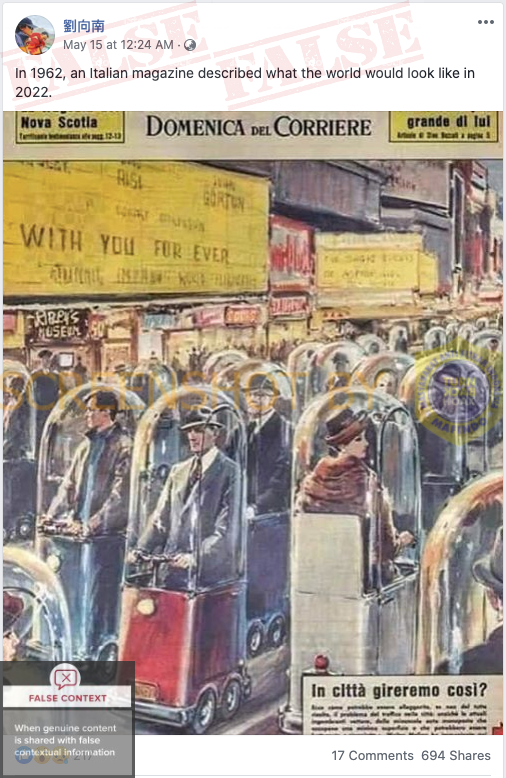 The "劉向南" (Liu Xiangnan, facebook.com/profile.php?id=100026394882465) account, shared 684 times per screenshot was made.
https://archive.md/Q3VsC (backup archive).
======
NARRATIVE
"In 1962, an Italian magazine described what the world would look like in 2022."
======
EXPLANATION
(1) First Draft News: "FALSE CONTEXT
When genuine content is shared with false contextual information"
More @ http://bit.ly/2qYG8Rs / http://archive.md/eSihu (backup archive).
* The SOURCE shared picture of illustration art of Italian weekly newspaper La Domenica del Corriere, December 16th 1962 edition.
* The SOURCE added false narrative which has caused false conclusion.
---
(2) Several related articles,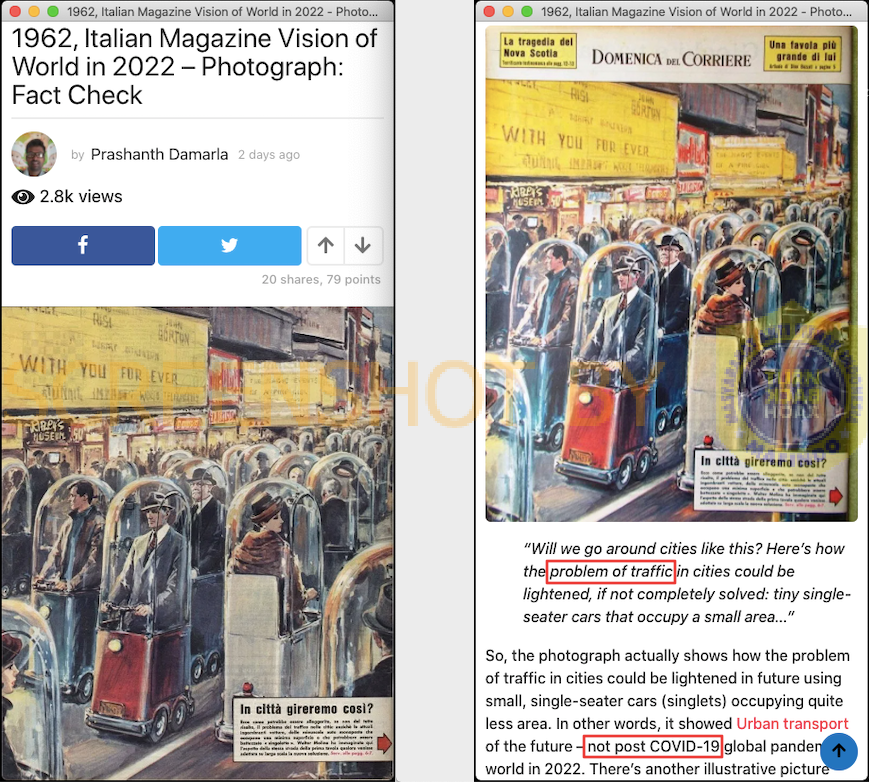 * HOAX OR FACT: ""Will we go around cities like this? Here's how the problem of traffic in cities could be lightened, if not completely solved: tiny single-seater cars that occupy a small area…"
So, the photograph actually shows how the problem of traffic in cities could be lightened in future using small, single-seater cars (singlets) occupying quite less area. In other words, it showed Urban transport of the future – not post COVID-19 global pandemic world in 2022."
More @ "1962, Italian Magazine Vision of World in 2022 – Photograph: Fact Check" https://bit.ly/3fYcmoD / http://archive.md/O4mlF (backup archive).
–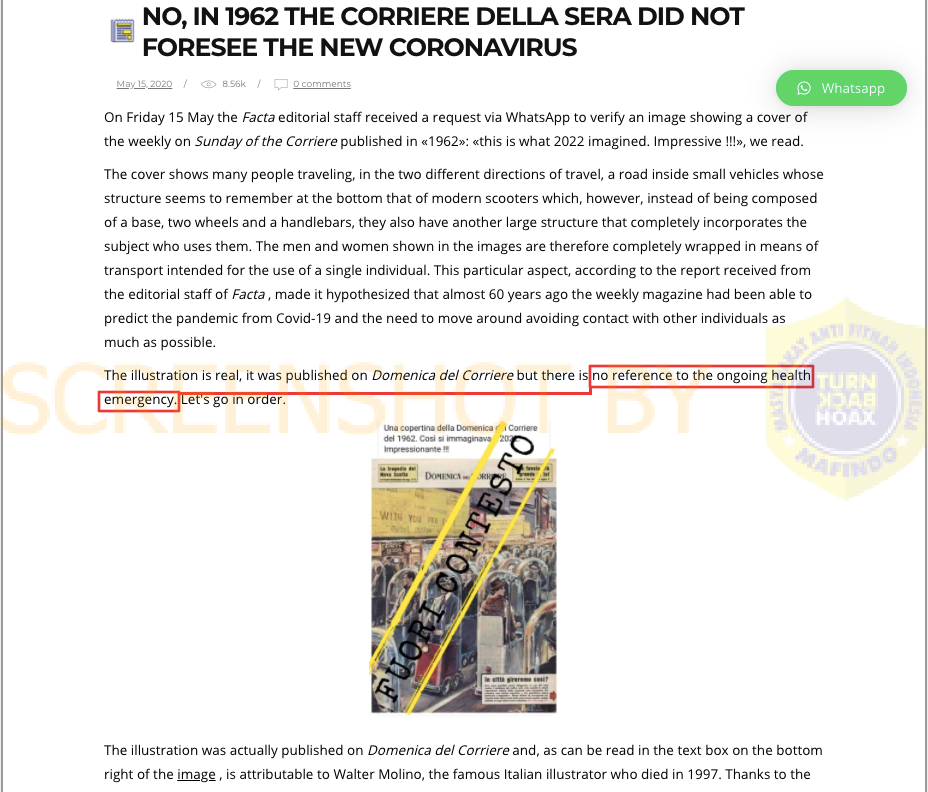 * facta.news: "The illustration therefore, as far as it can be considered at the forefront thinking about the birth, several years later, of means of transport designed to transport a single individual at a time (such as, for example, the Twizy produced by Renault), has nothing to do see with the new coronavirus and there are no explicit references to 2022. As seen, front and back of the number of La Domenica del Corriere published on 16 December 1962 revolve around the theme of city traffic and possible solutions to reduce it."
Google Translate, more @ "NO, IN 1962 THE CORRIERE DELLA SERA DID NOT FORESEE THE NEW CORONAVIRUS" https://bit.ly/2AyEgqU.
======
REFERENCE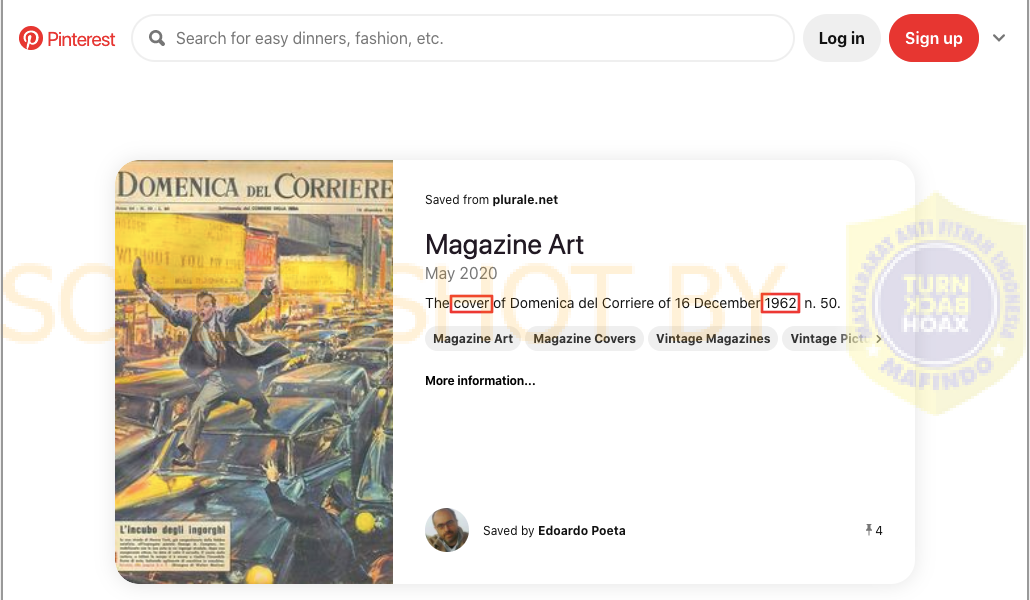 * Pinterest: "The cover of Domenica del Corriere of 16 December 1962, n. 50."
Google Translate, picture @ "Magazine Art" https://bit.ly/3cLIGZG.