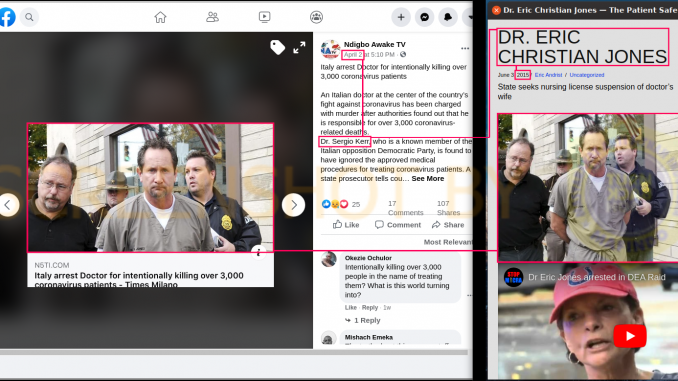 UNRELATED to COVID-19. Besides of baselessly mentioned a person name, the shared picture is an old picture.
More @ EXPLANATION and REFERENCE section.
(English version of "[SALAH] Dokter Italia Sengaja Membunuh Pasien Virus Corona" https://bit.ly/34su0vc).
======
CATEGORY
False context.
======
SOURCE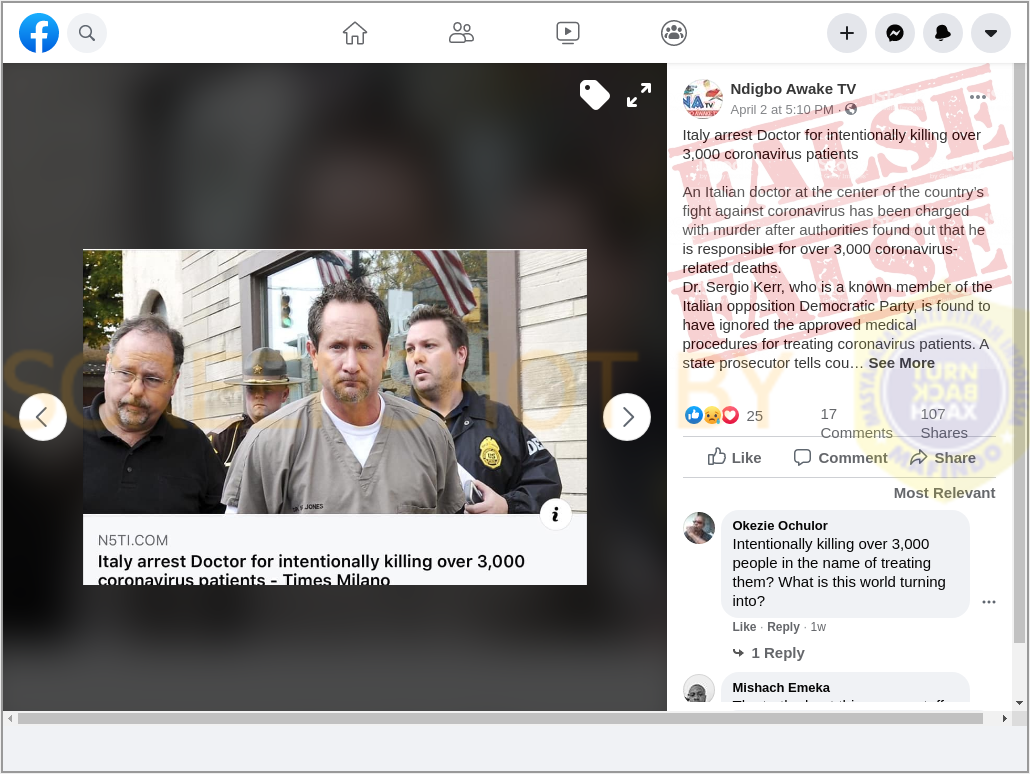 The "Ndigbo Awake TV" Page (facebook.com/Ndigbo-Awake-TV-2096389610621625), shared 107 times per screenshot was made.
http://archive.md/8L1sm (backup archive).
======
NARRATIVE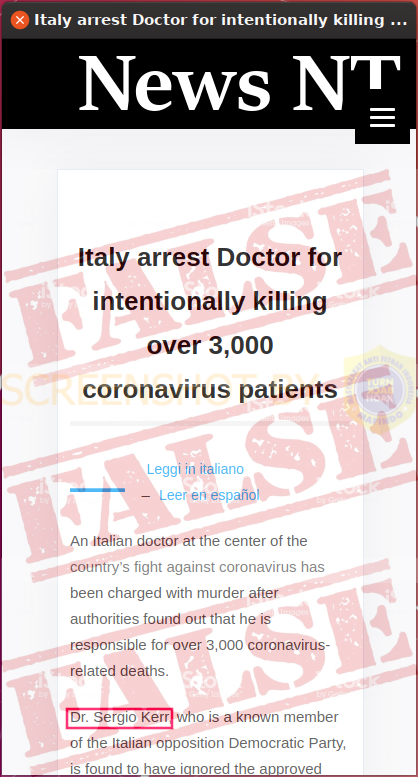 "An Italian doctor at the center of the country's fight against coronavirus has been charged with murder after authorities found out that he is responsible for over 3,000 coronavirus-related deaths.
Dr. Sergio Kerr, who is a known member of the Italian opposition Democratic Party, is found to have ignored the approved medical procedures for treating coronavirus patients. A state prosecutor tells court that Dr. Sergio administered Benadryl, Ditropan and doxepin which are anticholinergic medications which worsen pneumonia."
More @ http://archive.md/jjxYR (backup archive).
======
EXPLANATION
(1) First Draft News: "FALSE CONTEXT
When genuine content is shared with false contextual information"
More @ http://bit.ly/2qYG8Rs / http://archive.md/eSihu (backup archive).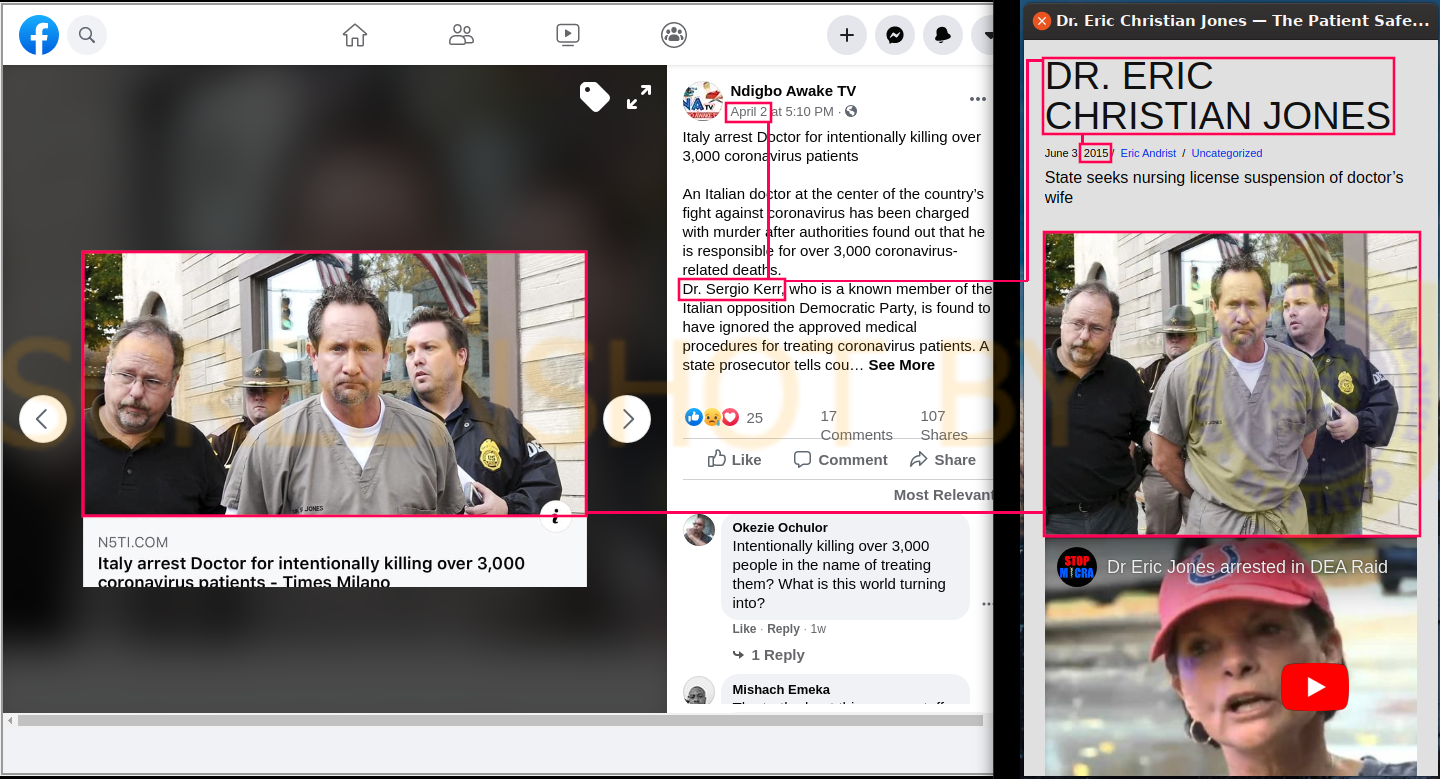 * The SOURCE shared picture UNRELATED to Italy's COVID-19 situation.
* The SOURCE added false narrative which has caused wrong conclusion.
---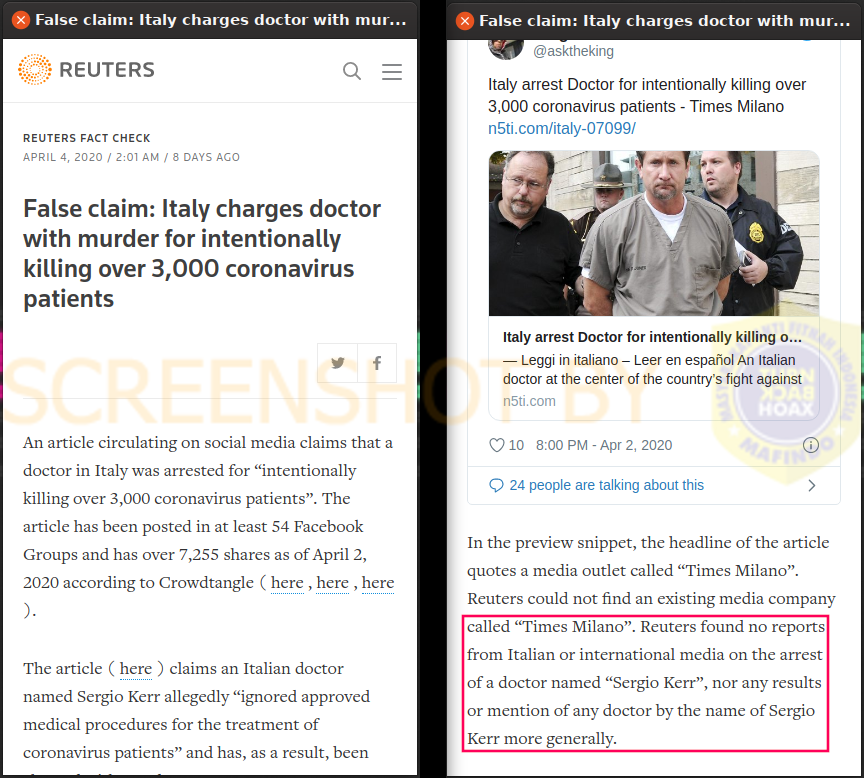 (2) Related article, Reuters: "Reuters found no reports from Italian or international media on the arrest of a doctor named "Sergio Kerr", nor any results or mention of any doctor by the name of Sergio Kerr more generally."
More @ "False claim: Italy charges doctor with murder for intentionally killing over 3,000 coronavirus patients" https://reut.rs/34uNwHu / http://archive.md/JiALS (backup archive).
---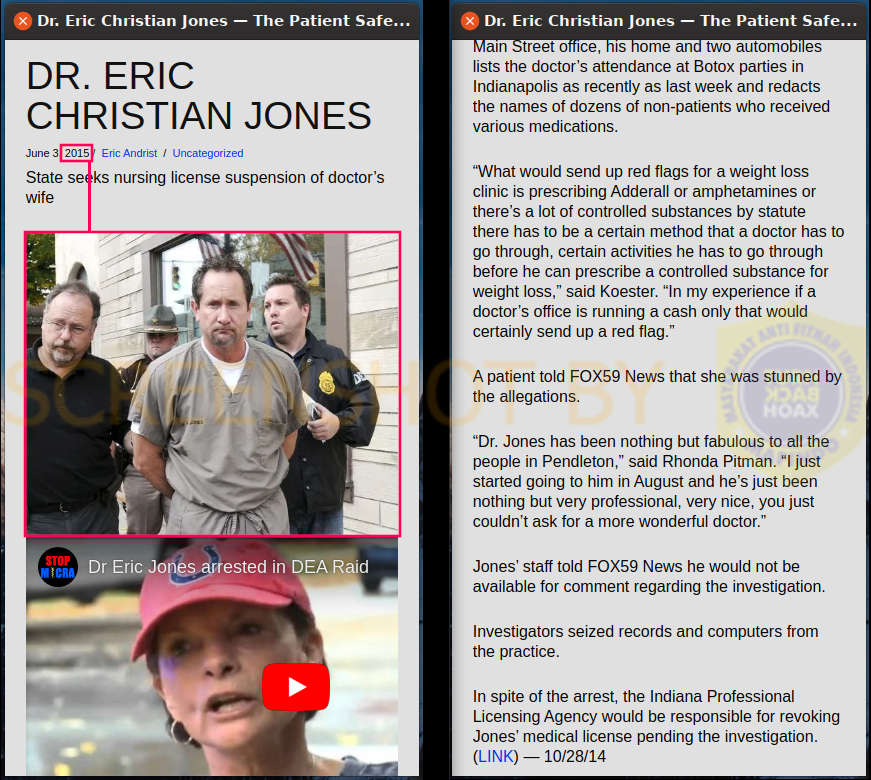 (3) One of picture source, The Patient Safety League @ Jun 3 2015: "Agents from the federal Drug Enforcement Administration (DEA), detectives from the Madison County Drug Task Force, Indiana State Police and Pendleton Police carried out a raid that led to the arrest of a Madison County physician on multiple drug charges."
More @ "DR. ERIC CHRISTIAN JONES" https://bit.ly/3b52sP5 / http://archive.md/wip/G21tL (backup archive).
======
REFERENCE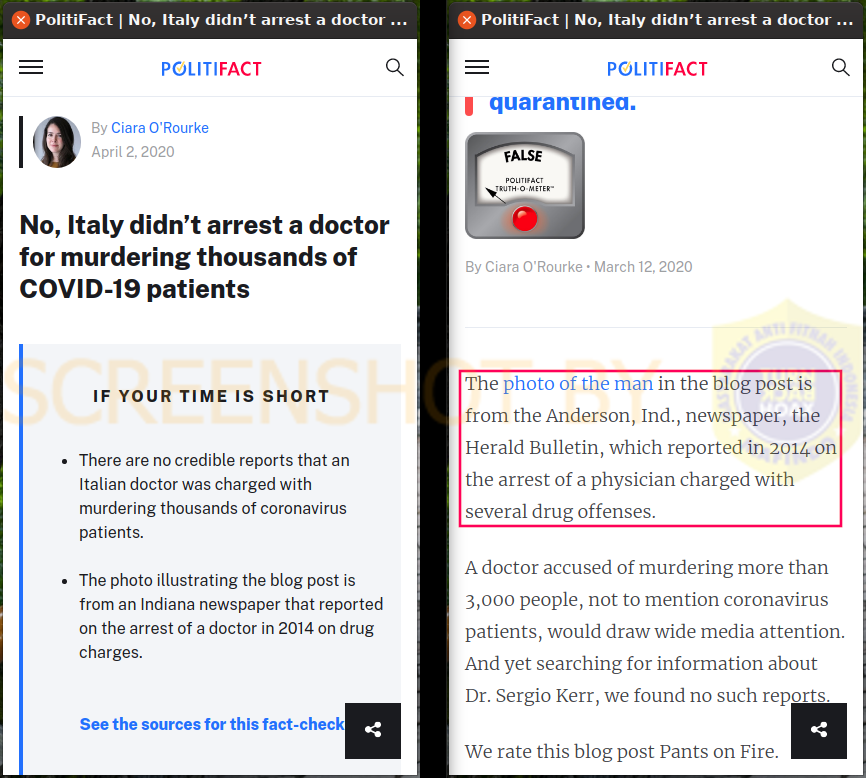 * POLITIFACT: "A doctor accused of murdering more than 3,000 people, not to mention coronavirus patients, would draw wide media attention. And yet searching for information about Dr. Sergio Kerr, we found no such reports."
More @ "No, Italy didn't arrest a doctor for murdering thousands of COVID-19 patients" https://bit.ly/3b74zSw / http://archive.md/sAe7G (backup archive).
======
NOTE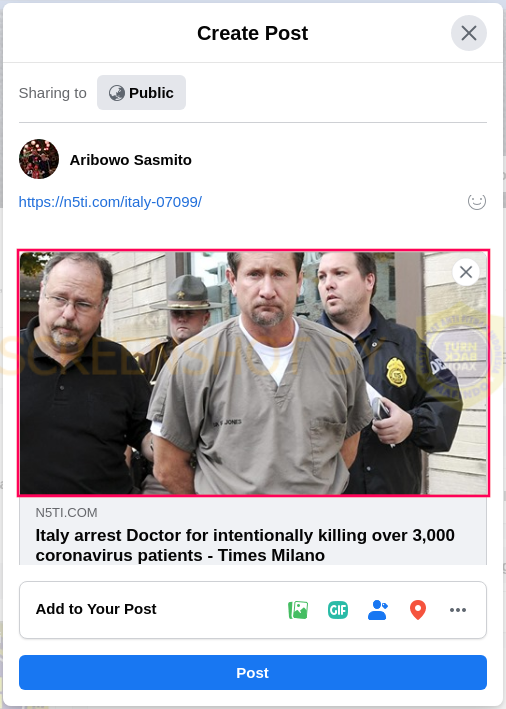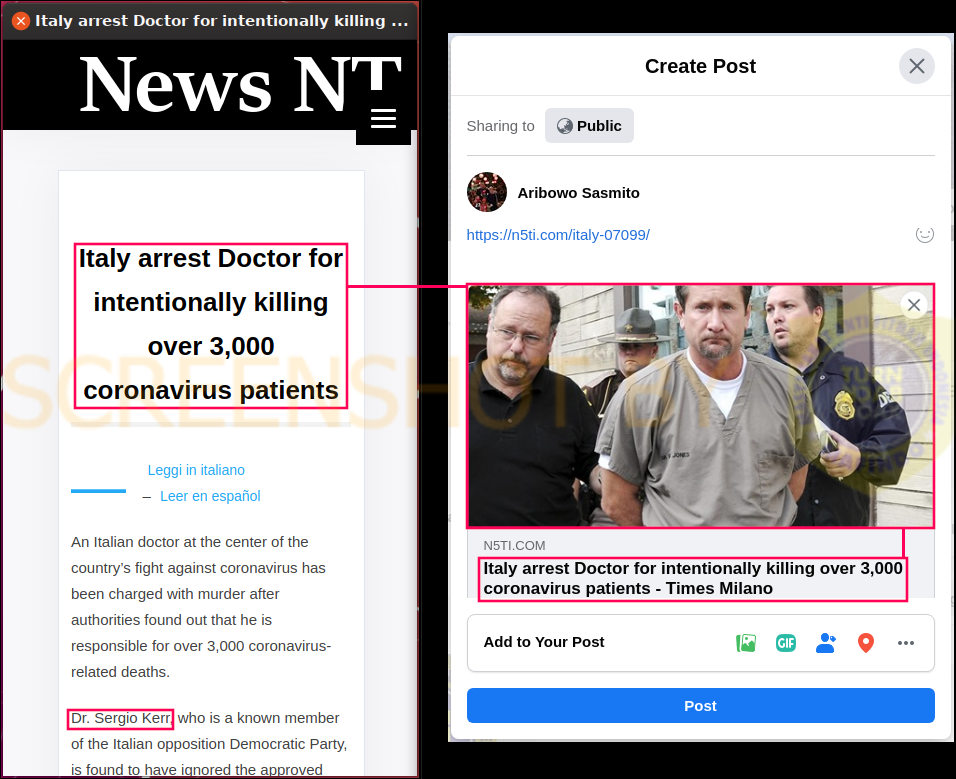 * Reuters: "The photograph accompanying the article ( here ), visible only when sharing the article but not visible in the article itself, was actually taken by John P. Clearly of the Herald Bulletin and shows a doctor who was arrested in Pendleton, Indiana in 2014. The original photo can be seen here . The name on the man's shirt ("Dr. Eric Jones") also does not match the name of the Italian doctor mentioned in this false claim."
More @ (2) on EXPLANATION section.