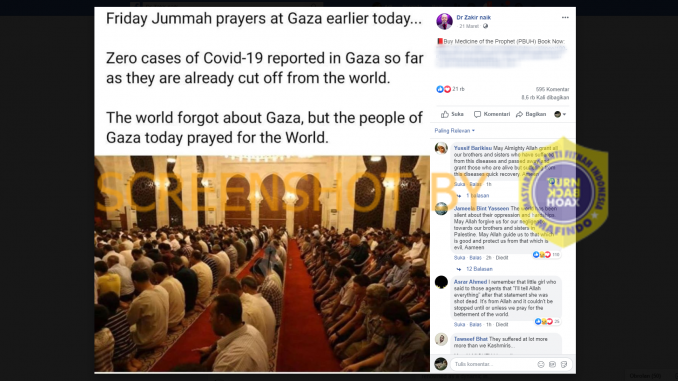 Not a photo of Friday prayers. The photo is a photo of Tarawih prayers at Al-Khaldi Mosque on the Gaza Sea coast in 2019.
Read more in the DESCRIPTION and REFERENCES section
=============================================
Category: False Content
=============================================
Account in the name of Dr. Zakir Naik ( fb.com/muslim.world0987 ) uploaded a photo containing the text as follows:
"Friday Jummah prayers at Gaza earlier today. Zero cases of Covid-19 reported in Gaza so far as they are already cut off from the world. The world forgot about Gaza, but people of gaza today prayed for the world "
Source: https://perm.cc/YKL6-8BB6 (Archive) – 8,613 shares were shared when the screenshot was taken.
=============================================
EXPLANATION
Based on search results, the claim that the photo was a photo of Gaza Muslims praying Friday is a false claim. The photo is a photo of the Tawarih prayer at the Al-Khaldi Mosque on the Gaza Sea coast in 2019.
One of the sites that contained the photo was the akhbarak.net site on May 21, 2019. The photo was uploaded in the article entitled "عدد ركعات صلاة التراويح في العشر الآواخر من رمضان" or which if translated: Ramadan "
There is no information where the photo was taken, but based on a search using Google Images, found the same photo uploaded on the site paltoday.ps in the article titled "بالصور: صلاة التراويح من مسجد الخالدى على شاطئ بحر غزة في أول" which if translated "In the picture: Tarawih prayer from Al-Khaldi Mosque on the coast of the Gaza Sea on the first night of Ramadan"
In addition to photos uploaded by claim sources, other photos were also found. including a photo of the Al-Khaldi Mosque. Al Khaldi Mosque, located in Palestine Gaza precisely on the Mediterranean Coast of North Gaza.
Al Khaldi is the name of a family or a kind of descendant of the generous Al Khaldi family. Al Khandi's family, according to information there, had spent 17 billion to build the Al-Khaldi Mosque. At the groundbreaking the construction of the Al Khaldi Mosque was carried out by Dr. Ust.Ismail Haniyah, one of the leaders of Hammas on Sunday 10 Ramadhan 1431 H / 20 August 2010.
Dr. Account Zakir Naik itself is not an official account owned by Zakir Naik, because Dr. Zakir Naik's verified account is an account address at https://www.facebook.com/zakirnaik/ and also, in his statement, this account writes:
"This is a" 𝐅𝐀𝐍 𝐏𝐀𝐆𝐄 "of Dr. Zakir Naik. This Is "𝐍𝐎𝐓 𝐎𝐅𝐅𝐈𝐂𝐈𝐀𝐋 𝐏𝐀𝐆𝐄". The posts we share on this page have nothing to do with Dr. Zakir Naik. "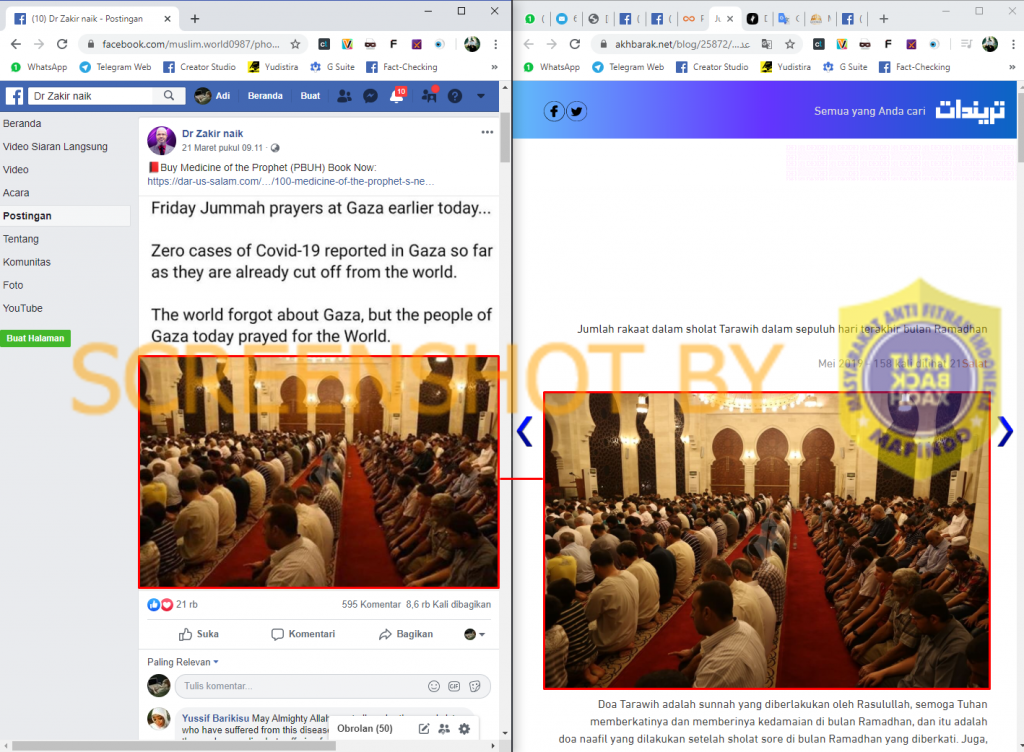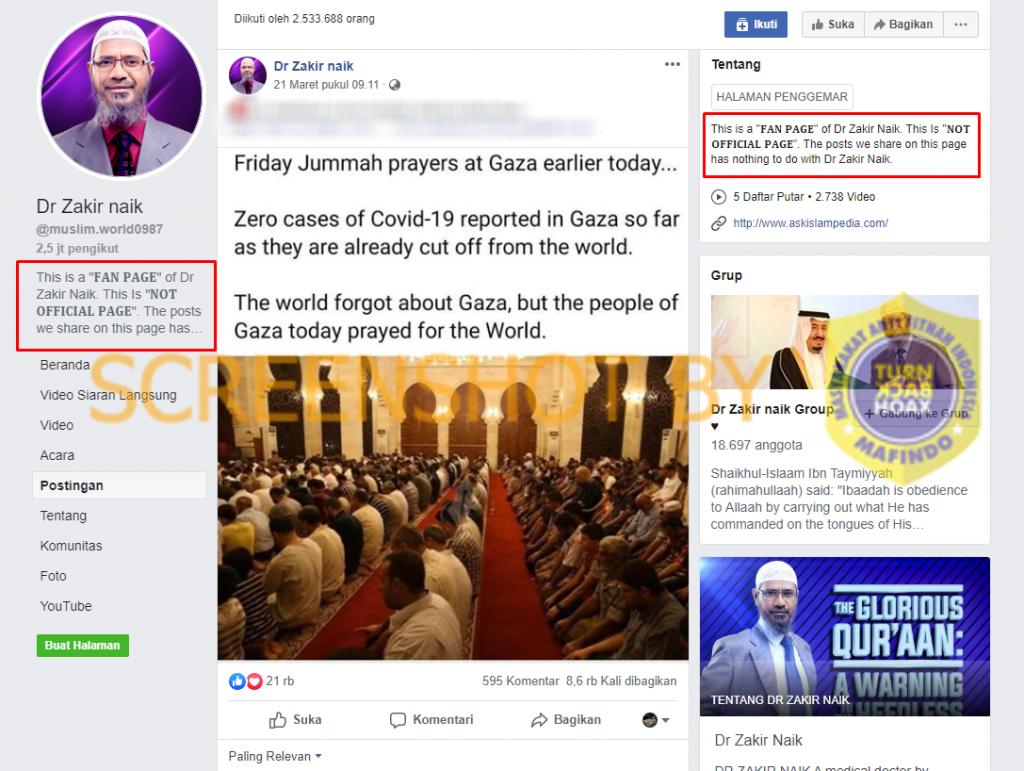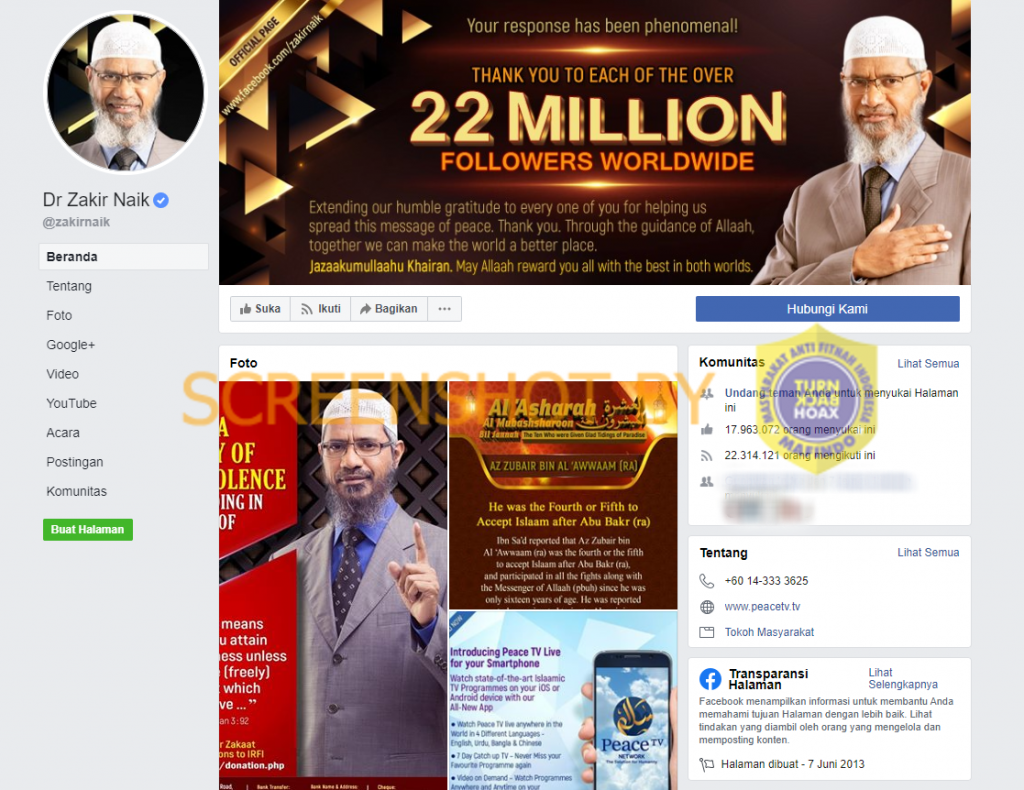 https://bit.ly/2WIhG8a ( Google Translate Chrome extension )